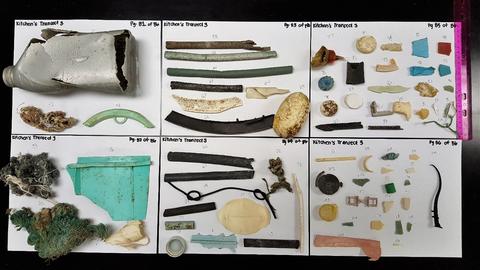 Plastic pollution has risen globally largely from increases in the types of plastic products, single-use plastic items and poor waste management practices in some areas of the world.
Unfortunately, the marine environment has become the recipient of much of the globe's plastic pollution.  There is currently a poor understanding of the quantity, types, lifetime, ultimate fate and toxic effects of plastic that enter oceans. As a result, NIST has become very involved in the science of measuring plastic pollution.
One way NIST has addressed this issue head-on is through a cooperative agreement with Hawaii Pacific University establishing the Center for Marine Debris Research (CMDR).  This center is purposely located in Hawaii, as this is one of the most plastic polluted regions in the nation.  A major goal of NIST is to develop and optimize measurement techniques that can be used to answer fundamental questions about this environmental issue and provide technical transfer opportunities to students at this academic partner.  Questions include: how much plastic is in the environment, what types of plastic comprise plastic pollution, how long has the plastic been in the environment and where did it originate, and what are potential negative effects on the environment? Reliable measurements of plastic quantities, particle sizes, polymer identities, and chemical additive concentrations in complex matrices are not easy and are required to monitor plastic pollution and provide the best data to inform industry and policymakers to help address this growing problem.  Best practices, reference materials, and inter-laboratory exercises can help harmonize both plastic pollution measurement and identification accuracy. Armed with this information, solutions such as prevention at the source or improvements to waste stream processes can be better targeted towards the most effective efforts.  These technologies are transferred to faculty and students at CMDR to answer basic, timely questions regarding plastic marine debris.  Recent research has focused on complete identification of polymers comprising plastic marine debris using multiple chemical methods.  Samples range widely in size and shape, including microfibers ingested by larval fish, microplastics ingested by sea turtles, and megaplastics washing ashore on beaches.  On-going work will develop and optimize methods to quantify plastic additives in plastic debris and wildlife tissues to assist the community studying health effects potentially linked with plastic pollution.  This project is part of NIST's Circular Economy program, which supports the nation's need to transition away from a model in which materials are extracted from the environment, manufactured into products, used, then discarded (a so called "linear economy") toward one in which the atoms and molecules that make up those products repeatedly cycle within the economy and retain their value.