See http://concrete.nist.gov/CREME.html for modeling examples in concrete rheology.
Other references include:
N. S. Martys, M. Khalil, W. L. George, D. Lootens, P. H'ebraud, Stress propagation in a concentrated colloidal suspension under shear, Eur. Phys. J. E 35:20 (2012).
N. S. Martys, D. Lootens, W. L. George, and P. H'ebraud, Contact and stress anisotropies in start-up flow of colloidal suspensions, Physical Review E 80, 031401 (2009).
C. F. Ferraris and N. S. Martys, "Concrete Rheometers," in Understanding the Rheology of Concrete, pp. 63-82 Woodhead Publishing Limited (2012).
C. F. Ferraris, N. S. Martys, and W. L. George, Development of Standard Reference Materials for Cement-Based Materials, Accepted for publication and will appear in a special issue of Cement & Concrete Composites Journal, 2013.
The essential nature of the polymer composite problem – non-Newtonian rheology and heterogenous microstructure over multiple length scales – is identical to the concrete rheology problem. Experience gained in modeling concrete rheology for non-spherical inclusions will aid in the polymer composite problem.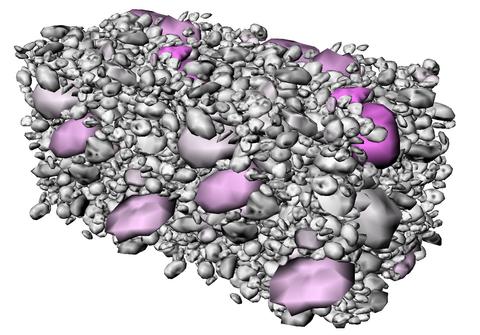 Dense packing of real sand and rock particles for simulating the rheology of a concrete. Smooth particle hydrodynamics is used to compute all the particle-particle and particle-fluid interactions under an applied shear strain.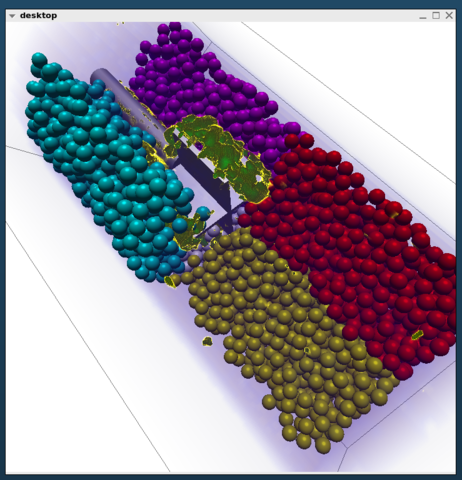 Smooth-particle hydrodynamics simulation of a vane rheometer used to measure the rheological properties of complex composites like concrete and polymer composites where the inclusions are too large for a parallel-plate geometry. In this case, the inclusions happen to be spherical.