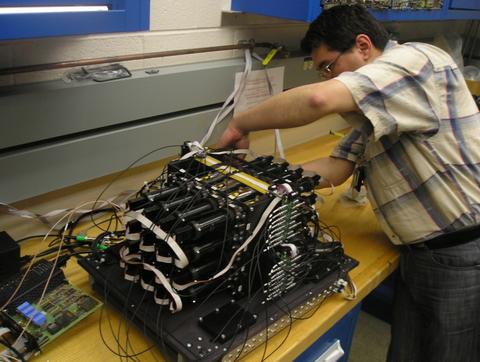 Figure 1 (right) shows the final assembly of a 16-channel spectrometer constructed in collaboration with Russian researchers at the Institute for Nuclear Research. The size of the 16 segments was chosen so that a fast neutron interacts on average only once in a segment, thus allowing one to correct for the nonlinear light yield, which is the dominant cause of poor energy resolution. The detector will use a commercial liquid scintillator that we have doped with enriched Li-6 to act as the neutron capture agent.
In collaboration with the University of Maryland and Yale University, we have also constructed two larger volume detectors to use in the underground and surface environments where high efficiency is more important that energy resolution. A construction of a prototype Fast Neutron Spectrometer (FaNS-1) consisting of six He-3 proportional counters placed between six large blocks of plastic scintillator was completed and assembled at Kimballton Underground Research Facility near Blacksburg, VA, as seen in the photograph. It has also been used to measure fast neutron backgrounds near reactors.
Using knowledge gained from this detector, we designed and constructed a second spectrometer (FaNS-2, shown in Figure 3) consisting of a larger volume of plastic scintillator and more He-3 proportional counters. This larger volume gives a greater sensitivity to the fast neutron flux and a larger dynamic range of approximately 1 MeV to 1 GeV. The detector is being used to measure the fast neutrons induced by cosmic rays at the Earth's surface and in shallow underground locations.