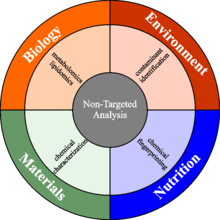 Typical targeted analysis aims to detect and/or quantify a set of known chemical compounds using specific instrumental techniques (such as liquid chromatography with triple quadrupole mass spectrometry). In contrast, non-targeted analysis is an analytical technique that detects, identifies, and/or quantifies a broad range of unknown chemical compounds without specifically targeting individual compounds. Non-targeted analytical techniques often use advanced instrumentation, such as high-resolution mass spectrometers and nuclear magnetic resonance (NMR) spectrometers, coupled with data analysis tools. Non-targeted analysis is a key part of many emerging research fields, including many of the "omics" approaches (e.g., metabolomics).
OBJECTIVE
With the rapid development of non-targeted techniques, there is a significant need for tools to understand non-targeted analysis results, compare results between laboratories, and provide quality control of non-targeted analysis protocols. The purpose of the MANTA program is to create reference materials and data that can be used evaluate non-targeted analysis results, as well as initiate and lead discussions with practitioners regarding quality assurance and quality control (QA/QC) of non-targeted analytical methods. The materials and data will be produced internally and using interlaboratory studies that engage members of the non-targeted analysis communities.
CURRENT ACTIVITY
Currently, we are planning for the first interlaboratory study between non-targeted analysis laboratories to evaluate a new tool for comparing non-targeted analysis results using liquid chromatography with high resolution mass spectrometry. There will be  a recorded informational webinar on March 21st, 2018, at 2:00 PM, to be included in the webinar, please contact manta [at] nist.gov.  For more information about the MANTA program, please click:  manta information.
CONTACT
MANTA Program Coordinators, manta [at] nist.gov