Impact
Access to affordable, clean water is vital to the nation's economic growth and security. Polymer-based membrane separation technologies based on reverse osmosis, forward osmosis and nanofiltration will play an increasingly critical role in the production of clean, safe water. In order to remain competitive, these membrane technologies must demonstrate improvements in water flux and reductions in energy consumption.
However, the membrane community lacks a "quantitative understanding of the connections between the molecular structure of the membrane and water permeability."1 Such an understanding will guide innovative designs of next-generation water purification membranes with improved performance and reduced energy demands.
Approach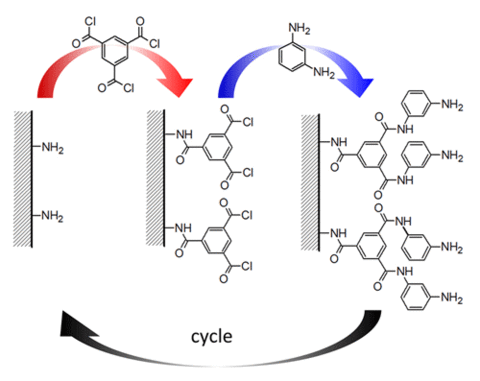 Our team is developing measurement methods to correlate membrane structure and dynamics to performance (flux and selectivity) and improve reproducibility and comparability of measurements on these materials. We have developed an approach for synthesizing model crosslinked polyamide membranes based on molecular layer-by-layer (mLbL) deposition, which enables precise control over network structure, surface chemistry, residual charge, roughness and film thickness as well as placement of specific functional groups at defined locations within the network.
Armed with these model membranes as a reference, we apply our expertise in advanced surface analytical tools such as X-ray photoelectron spectroscopy, near-edge X-ray adsorption spectroscopy fine structure and atomic force microscopy to assess the impact of surface structure on permeability and transport of water and solutes across the water-membrane interface. We also employ scattering techniques such as X-ray/neutron reflectivity and high-flux backscattering to measure the molecular topology and chain motions of the membrane network, which will be correlated to the diffusion and transport of water and solutes through the membrane. 
1Society News, MRS Bulletin 37, 163, (2012).