Summary
Accurate characterization of photonic equipment is important for optical communications, medical devices, semiconductor lithography, manufacturing and materials processing. The Laser Radiometry Project performs research and development to extend the accuracy, wavelength range, power range, robustness, and portability of laser radiometric standards. We are developing advanced microfabrication techniques couples with carbon nanotube technologies to extend the performance of laser radiometric standards from room temperature to cryogenic temperatures.
Description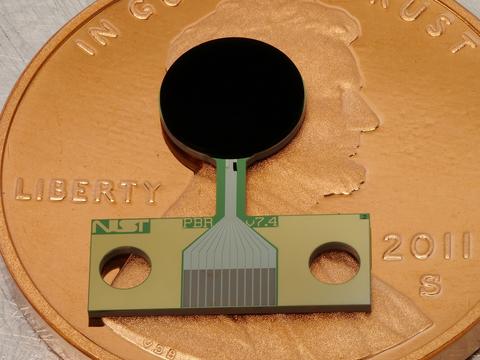 Meeting the needs of the photonics industry and anticipating emerging technologies requires investigation and development of improved measurement methods and instrumentation. With few exceptions, all of the primary measurement standards for establishing traceability to fundamental units for radiometry are based on thermal detectors. We have recently demonstrated thermal detectors with absorber coatings consisting of carbon nanotube arrays.
Major Accomplishments
International comparisons with Germany, Great Britain, Japan, Mexico, Switzerland, South Korea and Russia.
Demonstrated a small, portable laser power meter based on radiation pressure (photon momentum).
Established 10 kW laser power meter calibration facility.
Carbon nanotube based bolometers for absolute measurement of laser power at visible and far infrared wavelengths.