Time-resolved infrared (TRIR) measurements on the picosecond to microsecond timescales and FTIR transmission spectroscopy in the far-infrared (THz) spectral region are applied as a means to monitor light-initiated vibrational mode dynamics in model hydrogenase species. Synthesis of the model species is conducted at Hood College using literature methods while THz FTIR spectroscopy and TRIR measurements are conducted at NIST. Theoretical modeling of Raman, IR and transient species' vibrational modes is conducted at Hood, NIST, and the University of Memphis, using Gaussian 03 Density Functional Theory. To date, detailed vibrational mode assignments for the Fe-Fe(CO)6 and trimethylphosphine derivatives of the ethyl-bridged and propyl-bridged (see Figure b) and c) below) isomeric species have been performed and published. Studies of these same samples under UV and visible excitation conditions have helped identify transiently vibrationally hot species, CO-loss products and electronically excited states that extend the Fe-Fe bond distance to create strongly absorbing transient state in room temperature n-hexane and acetonitrile solutions.

Molecular structures and mimics for the active site of Di-Iron Hydrogenase. a) active site of bacterial protein connected through an Fe-S linkage, b) hexacarbonyl mimic with a propyl disulphide bridge and c) same as b) with an ethyl bridge. Related CN- and PMe3 substituted compounds are also under investigation.
Examples of TRIR spectra in the CO-stretching region (near 5 microns wavelengths) are shown in the Figure below. Evolution of transient IR spectra taken several picoseconds after excitation through 750 ps time delays are presented as waterfall plots (green to blue, respectively).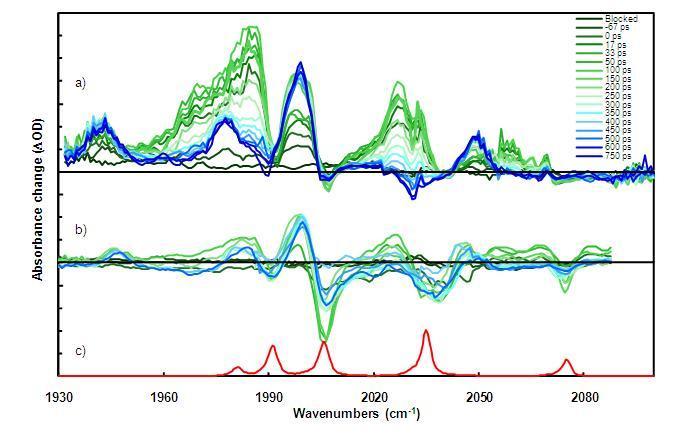 TRIR spectra for the propyl-bridged Fe-Fe(CO)6-Hydrogenase model compound in n-hexane at 293 K using a) 532 nm pump, b) 355 nm pump, IR probe spectra, and c) steady-state FT-IR spectrum of the compound for reference.