Since 1989, the NIST impact verification program has provided more than 20 years of service to manufacturers and consumers and currently certifies eleven SRMs that underpin quality control testing of impact toughness for structural steels. We provide SRMs to verify the measurement of absorbed energy at three energy levels: low energy (14-20 J); high energy (88-136 J); and super high energy (176-244 J). We also provide two SRMs that are used to verify the measurement of maximum force in a Charpy impact test, and SRMs for the verification of small-scale impact machines (miniaturized Charpy specimens). 
The Charpy program supplies approximately 2,000 units per year to customers worldwide. Typically, we evaluate and report on over 1,000 verification tests per year. We are available to our customers by email, fax or phone (1,500 contacts per year) and continually update our customer website and database to improve customer interactions. Most recently, the program has gone paperless, improving the already short turnaround time for our post-test evaluation to same-day service. For a presentation which outlines the history of the Charpy test, as well as the operation of the NIST Charpy Machine Verification Project, click here.
We recently added a means for our customers to obtain a proficiency test result for their impact test. When a customer purchases a set of SRMs, the data from all NIST verification tests for that lot are made available (for lots that have at least 50 sets of results available). Customers can compare their test results to this compiled data, giving them an alternate means (aside from meeting ASTM or ISO requirements) to evaluate the performance of their machines, and the relative performance of multiple impact machines within their organizations. This information supports efforts by industry to achieve or maintain quality system certification through ISO or other standards bodies.
NIST maintains leadership positions in ASTM and ISO standards committees and has long been active in improving impact testing standards both in the U.S. and around the world. We maintain an extensive database of customer data in order to further improve measurement accuracy and support our ISO and ASTM activities. For example, we publish a guide on uncertainty analysis for Charpy tests that offers users a full explanation of the uncertainty associated with the NIST reference specimens and the customer's verification test.
We are currently working with several national metrological institutes (NMIs) to develop an approach to SRM certification that reduces the bias among the NMIs. Our focus is on standardizing the design of instrumented strikers to provide comparable force-displacement data across all types of Charpy machines and achieving a true dynamic calibration procedure for instrumented Charpy strikers. If successful, absorbed energy measured under the instrumented impact curve will be traceable to force and time, linking the measurement to more fundamental quantities (see an example of instrumented curve below). This approach, like the current approach of measuring the energy absorbed from a pendulum swing (in Joules), has many practical issues that will need to be addressed - primarily related to friction and vibrational components of the absorbed energy. However, we see this as the future direction of impact testing and the best hope for establishing an international scale for measuring absorbed energy that can help to reduce bias among NMIs.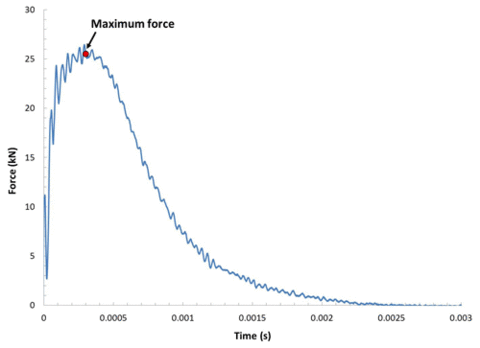 Additional Technical Publications
Additional Technical Details
Staff from the Statistical Engineering Division (SED) have been involved in the Charpy Machine Verification Program since NIST acquired the program from the U.S. Army in 1989. SED staff have proposed new verification limits for variation based on: an F-test, a range rule, and variation in the production lot, because the verification limits stated in ASTM E23 are somewhat arbitrary and there is no limit to variation in a set of five specimens. We have developed an uncertainty procedure for the reference value as well as guidelines for computing uncertainty for customer measurements in the Recommended Practice Guide, "Computing Uncertainty for Charpy Impact Machine Test Results". 
A new proficiency testing service is currently available, so that customers can compare their test results to those of other customers that have tested specimens from the same lots. SED staff are responsible for providing appropriate statistical analyses for this service.
In 2014, C. McCowan (ACMD), R. Santoyo (ACMD), J. Splett (SED), and J. Wang (SED) won the Department of Commerce Silver Medal Award for excellence in customer service.
In 2022, E. Lucon (ACMD) and R. Santoyo (ACMD) won the NIST Judson C. French Award for "Outstanding Customer Service by Creating a Digital Verification Program for Charpy Impact Test Standards Involving > 1,900 Customers Per Year in 60 Countries."
Associated Products
Charpy Project Summary (PDF)
The Charpy Machine Verification Program at NIST: Ensuring the Reliability and Consistency of Charpy Machines Around the World (PDF)