NEW ENABLING TECHNOLOGY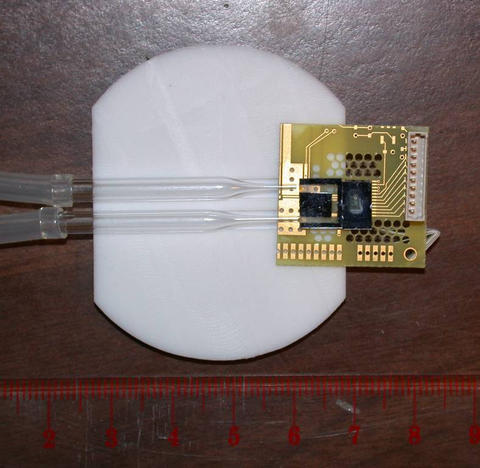 Nuclear magnetic resonance (NMR) is an essential technology for studying the physical, chemical and biological properties of various materials with applications in biomedical testing, chemical analysis and geology, among others. 
Conventional NMR spectroscopy instruments are expensive, large, and require cryogenic cooling. By contrast, NIST's highly compact integrated microchip, incorporating an atomic magnetometer and a microfluidic channel for NMR and MRI, requires no cryocooling and can be manufactured with conventional microfabrication techniques for ease of mass production.
Low field, low power, low noise
Demand for benchtop NMR that does not require cryogenic cooling has been increasing. Benchtop NMR is highly advantageous for chemists working in industrial laboratories. Compact and portable magnetic resonance imaging (MRI), also called battlefield MRI, has been demonstrated and holds the promise of making life-saving information available to doctors on the battlefield or in remote areas quickly. In both cases, more compact and less expensive NMR and MRI that do not require cryocooling will make these instruments increasingly available.
Low-field MRI is a growing area of interest that requires magnetometers to operate with high sensitivity at very low frequencies associated with low magnetic fields. This invention uses very small alkali vapor-cell atomic magnetometers with a sensitivity sufficient for detecting very weak DC magnetic fields produced by a small sample of fluid. The fabrication process allows for integration of the alkali vapor cell adjacent to a microfluidic channel within an integral microfluidic device. 
Readily fabricated with existing technology and as accurate as cryocooled instruments.