Standards

OSAC facilitates the development of high-quality, technically sound forensic science standards. The term "standard" applies collectively to a document which has been prepared by a standards developing organization (SDO). A standard can be best practice recommendations, classifications, codes, guides, methods/test methods, practices, specifications, or vocabulary/terminology. The elements required in a standard will differ by the type of standard and by the SDO.
As of September 5, 2023 there are:
158 standards on the OSAC Registry (109 published and 49 OSAC Proposed).
60+ SDO-published standards eligible for OSAC review for placement on the Registry.
170+ OSAC-drafted standards progressing through the development process at SDOs.
165+ standards being drafted within OSAC.
Download and view the complete listing of OSAC's standards activities here. Discipline-specific standard efforts that are underway can be found on individual OSAC subcommittee webpages. 
Other Work Products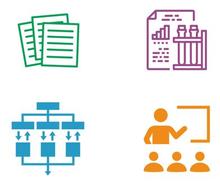 In addition to drafting standards, OSAC may develop and share other work products that support standards advancement and implementation. For example, historical documents and reference materials, as well as information on completed and ongoing OSAC activities can provide valuable input for needed standards and help stakeholders better understand the nature, scope, scientific basis, current practice, and limitations of a forensic science discipline.
OSAC's other work products include:
Bibliographies and bibliographic references are listings of academic publications, published standards, and public access databases. Discipline-specific bibliographies and bibliographic references may be found on OSAC subcommittee webpages. 
Interlaboratory comparisons may provide the initial data for or help to validate draft standards. Ideally, the results will appear in a peer-reviewed journal article, however, the call for participants and explanatory information (e.g., instructions, webinars) may be shared on a unit's webpage. 
Process maps are a useful tool that can help forensic science disciplines provide insight into their specific activities, identify areas for improvement, and discover where standards may be needed. Process maps have been developed for the following disciplines and can also be found on the relevant OSAC subcommittee webpage.
Research and development needs identified by OSAC subcommittees are documented and posted publicly for consideration by funding agencies and research institutions. 
Reference documents provide information that supports the development of a standard, supplement the references cited in a standard, or assist in the implementation of a standard. OSAC may develop original reference documents or share previously published ones. These documents are available on subcommittee webpages.
Standards development maps identify standards that need to be developed and indicate their priority. Standards development maps may be found on subcommittee webpages.
Technical Guidance Documents are OSAC-produced and published documents that support standards development or implementation. These documents provide a way to share information that was gathered during the standards analysis and development process but will not be part of a standard.
Webinars, presentations & training videos from OSAC units inform the forensic community of its plans, standards under development, implementation of standards, and other efforts. 
The OSAC Lexicon is a terminology tool used to help achieve consistency in the terms being used by various forensic science disciplines in their standards. OSAC shares information related to the management of Lexicon terms developed by subcommittees and the published sources for the included terms found in draft and published standards. 
Surveys for collecting data for standards development or for any of the work products listed above. 
The Work Products listed above have been developed by OSAC and are provided as a public service. They are provided "AS-IS"  and should be used for informational purposes only.  The Work Products may be used by interested organizations on a voluntary basis. Please provide appropriate attributions to OSAC/NIST.