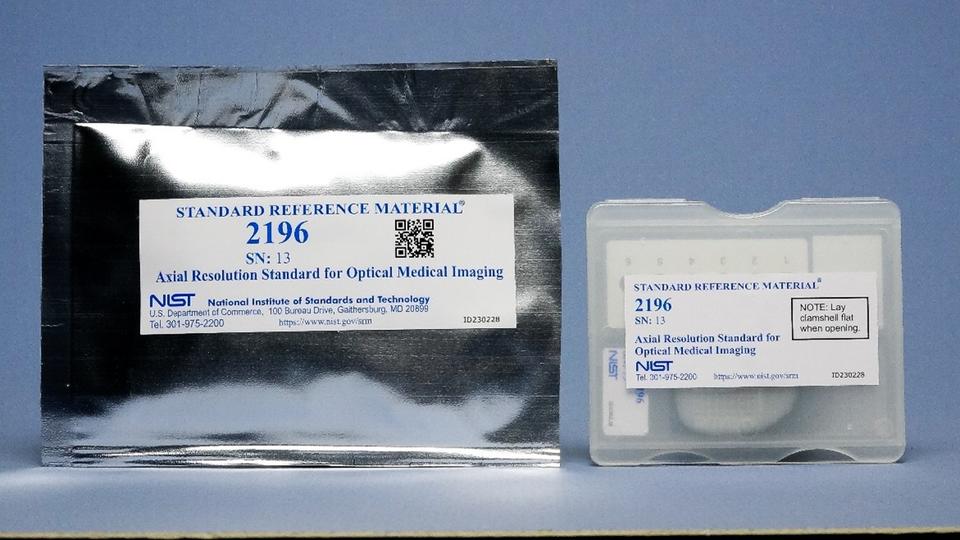 Medical imaging devices and systems must be calibrated to ensure uniformity and reliability of test results. A Standard Reference Material (SRM) or "phantom", as it is known in the medical imaging community, is used to replicate fundamental characteristics of tissue and/or the material for which the imaging device is intended for use. This SRM is intended primarily for verification of the calibration of 3D optical medical imaging devices to ensure their uniformity and reliability of test results.
A unit of SRM 2196 consists of three PDMS layers on a gridded glass slide: a thin clear layer sandwiched between two thicker scattering layers. A white coated fiduciary slide with 5 mm clearance holes is provided along with the SRM to help align the target grids under an imaging device. 
Learn more
Certification of Standard Reference Material® 2196
Axial Resolution Standard for Optical Medical Imaging Hwang, J. , Briggman, K. , Rentz, N. ,
Kim, H. , Allen, D. , Richter, L. , Yoon, S. and Lu, J.