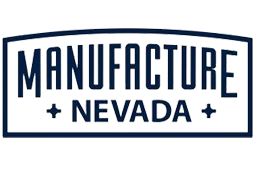 Nevada Industry Excellence (NVIE) is an Outreach Program of the University of Nevada, Reno's Research & Innovation division. To better align with its vision and mission, NVIE has rebranded as Manufacture Nevada. The name change represents an active, real-time effort to provide today's solutions and tomorrow's vision for manufacturing in the Silver State.
"The name change will allow us to more directly serve this growing and strategically important sector to Nevada's economic future," Tom Simpkins, director of Manufacture Nevada, said. "The word Manufacture speaks directly to the audience we are serving while Nevada makes it clear the University is positioned as the leading supporter of innovation and growth in the manufacturing community of the state."
Manufacture Nevada connects manufacturers across Nevada and the U.S. by forging partnerships with the right businesses, organizations and resources. Its mission is to support the University's strategic plan through growing and sustaining a thriving manufacturing ecosystem in Nevada. As the go-to resource for ensuring Nevada manufacturing is resilient and a leader in innovation, Manufacture Nevada's vision is to increase the contribution of manufacturing to Nevada's economy by leveraging University resources to support manufacturing innovation and connecting manufacturers, students and faculty to workforce and research opportunities.
Learn more about Manufacture Nevada or connect with a manufacturing business advisor at www.ManufactureNevada.com.