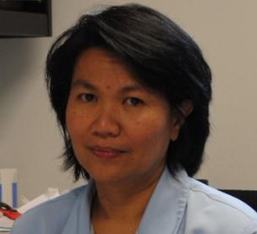 Toni Litorja is a staff research chemist in the Sensor Science Division of the Physical Measurement Laboratory at NIST. She began her career at NIST in 1999 as research fellow in the Surface and Microanalysis Research Division (now part of NIST's Material Measurement Laboratory) after a postdoctoral research appointment in the Chemical Dynamics Group at Argonne National Laboratory. Toni has a wide array of technical expertise, ranging from wet chemical analytical methods to ultrahigh vacuum work for surface analyses, to three-dimensional optical imaging. She was part of the team that received a 2013 Department of Commerce Gold Medal for "overcoming longstanding challenges in ensuring the accuracy of the longest unbroken satellite climate record through rigorous measurement science".
Toni has served on working groups of the Clinical Laboratory Standards Institute (CLSI) and the American Association of Physicists in Medicine (AAPM) to develop various documentary standards and guidance documents ranging from analysis and quality control in clinical chemistry to developing fluorescence guided imaging systems for surgery. She also has served as a measurement services auditor for the NIST calibration service program and as the Director of the Summer Undergraduate Research Fellowship program within the Physical Measurement Laboratory. Toni actively volunteers as an advisor and mentor to high school, undergraduate, and postdoctoral fellows and as a STEM career adviser for the Northwestern University McCormick School of Engineering (her alma mater).
Toni has been working on tools for dissemination of the SI in optical technologies for metrology of dimensions (length) and substance quantification. She works on applications of measurement science of emergent optical technologies in diverse application areas such as image-guided surgery, toolmark image analysis in forensics, and climate research, and notes that it is often difficult to envision a clear path to SI traceability in these more nascent field applications. She hopes to contribute to OWM's mission as well as learn and apply how legal metrology drives the various measurement device communities to adopt SI traceability. 
See Toni's NIST Staff Page