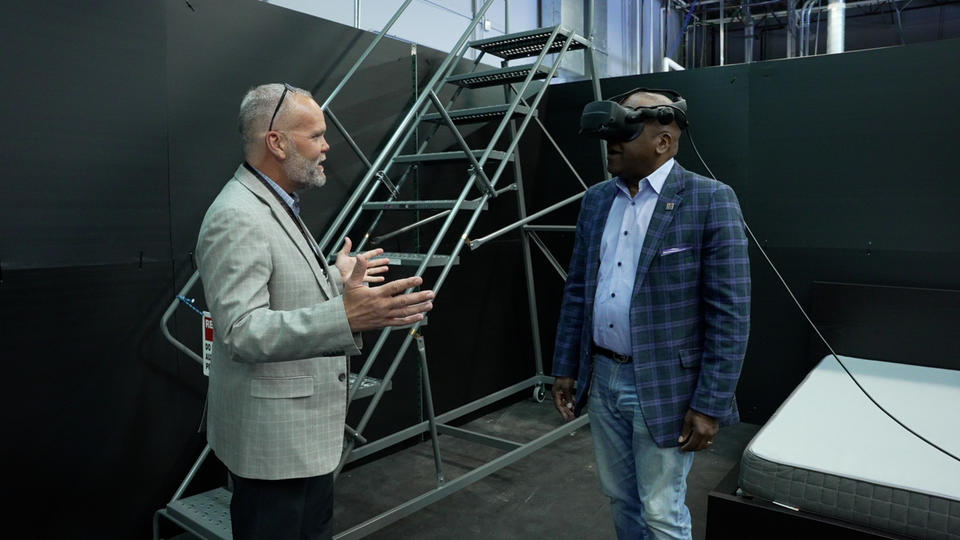 At the National Institute of Standards and Technology's (NIST) Public Safety Communications Research Division (PSCR), we are frequently asked about our relationship to the National Telecommunications and Information Administration's (NTIA) First Responder Network Authority—also known as the FirstNet Authority. In this article, we shed light on the history of this relationship, how we work together today, and how you can learn more about each organization.
The history of PSCR and the FirstNet Authority
The FirstNet Authority and PSCR are partnering agencies within the Department of Commerce that have complemented each other's work for approximately a decade. The tragic events of 9/11 demonstrated the need for the federal government to improve first responder communications. PSCR aided these efforts by actively participating in the requirements gathering and standards development process for public safety communications. This contribution led PSCR to receive $300 million in funding from the Middle Class Tax Relief and Job Creation Act of 2012, which also established the FirstNet Authority. The funding directed NIST to perform critical public safety communications research and development (R&D) during a 10-year period. PSCR has since used these funds to pioneer technological innovation, accelerate cutting-edge communications research, and set critical communication standards.
The FirstNet Authority was charged with overseeing the building, deployment, and operation of a single nationwide broadband network dedicated to public safety. In 2017, the FirstNet Authority awarded a 25-year contract to AT&T, establishing a first-of-its-kind public-private partnership to build FirstNet—the only nationwide broadband network backed by the federal government. PSCR aided this effort by leading the National Public Safety Telecommunications Council's (NPSTC) Broadband Working Group to develop high-level network requirements for FirstNet. 
The FirstNet network launched in 2018, delivering initial capabilities for first responders, including priority and preemption. These features ensure public safety is able to communicate, even when other cellular networks are congested. Today, the network supports more than 20,500 public safety agencies and organizations, hundreds of apps and devices designed with public safety in mind, and advanced features like Mission-Critical Push-to-Talk and vertical location services. The FirstNet Authority continues to invest in the network to ensure it evolves to meet public safety's needs. Investments include upgrading FirstNet network assets to prepare for 5G, expanding the dedicated fleet of deployable assets to support public safety during natural disasters and major events, and enhancing in-building coverage so first responders can communicate, regardless of their surroundings. 
How PSCR and the FirstNet Authority work together today
The FirstNet Authority and PSCR are aligned in their missions and visions for the future of public safety communications technology. Both entities are working together to inform their investments into the FirstNet network and PSCR's R&D efforts in years to come.
PSCR's Mission: Serving as an objective technical advisor and laboratory, PSCR is drive towards advancing public safety communications technologies by accelerating their development, adoption, and implementation so that the public safety community can more effectively carry out their mission to protect lives and property.
The PSCR and FirstNet Authority teams have collaborated on public-safety-focused prize challenges including the 2019 Haptic Interfaces for Public Safety Challenge, the 2020 CHARIoT Challenge, and the 2021 First Responder Smart Tracking (FRST) Challenge. Where PSCR contributes prize money and lends research proficiency to establish the parameters of the prize challenges, the FirstNet Authority contributes experts to judge the feasibility and execution viability of challenge submissions. PSCR and the FirstNet Authority also seek public safety input to guide these prize challenges. For example, the PSCR and FirstNet Authority worked closely with active-duty first responders to craft contests for the 2019 Tech to Protect Challenge, ensuring technology addressed areas important to responders. After the contest, several winners' apps were commercially viable and were later added to the FirstNet App Catalog.
PSCR and the FirstNet Authority also collaborated with the U.S. Economic Development Administration to sponsor the Accelerate R2 Network (R2 Network) Challenge. The challenge established a public-private partnership among industry leaders and public safety organizations and provided funding to kickstart efforts to connect stakeholders in the response and resilience (R2) industries. The R2 Network aims to accelerate the speed of bringing innovative technologies to the public safety market and, in turn, create new businesses and jobs and support community resilience. Most recently, the R2 Network launched R2 Connect—an online community for innovators and first responders to share best practices and new public safety technologies.
The FirstNet Authority and PSCR are also working to accelerate technology development through the Public Safety Immersive Test Center (ITC). Located in the FirstNet Authority's Boulder, Colorado facilities, the ITC provides opportunities to conduct immersive public safety standards and measurements testing. The testing area is comprised of a modular wall space, a motion capture system, 42 high-speed optical tracking cameras, and a variety of augmented and virtual reality headsets. The ITC will allow for limitless virtual environments for testing and demonstration purposes, including search and rescue and Coordinated Complex Terrorist Attacks. The center's cameras will also provide a "ground truth" system to evaluate the accuracy of location-based services technologies developed by industry and academia. Over time, the center will integrate technologies from other PSCR research areas—like the Internet of Things and analytics—for use in R&D and for demonstration purposes. Access to the ITC may be scheduled at no cost to public safety agencies and supporting organizations within the private sector and academia. PSCR and the FirstNet Authority hope this space will help spur the development and deployment of valuable public safety technologies. 
The FirstNet Authority's Mission: Oversee the buildout, deployment, and operation of the nationwide public safety broadband network called FirstNet.
Additionally, PSCR and the FirstNet Authority regularly partner to ensure their work aligns with standards bodies, collect feedback from public safety, and share industry advancements. PSCR and the FirstNet Authority use public safety's feedback to inform federal leaders on the communications technology needs and requirements of first responders.
Learn more about PSCR and the FirstNet Authority at PSCR 2022
The FirstNet Authority is a key contributor to PSCR's Annual Stakeholder Meeting, which brings together representatives from public safety, federal agencies, industry, and academia to give direct input, guidance, and feedback to PSCR on its R&D efforts. 
Participants can hear directly from FirstNet Authority leaders at PSCR 2022 in San Diego, California, from June 7-9, 2022. FirstNet Authority Board Vice Chair Richard Carrizzo will give the keynote address, reflecting on his 39 years of experience with public safety communications in the fire and emergency services communities. During "From Hypothesis to Reality: FirstNet Today," a plenary session, the FirstNet Authority will reflect on how the nationwide public safety broadband network has transformed public safety communications. FirstNet Authority representatives will also serve on panels and join breakout discussions throughout the event.
To learn more about PSCR, visit the PSCR Virtual Lab Tour. More information on the FirstNet Authority is available at FirstNet.gov.