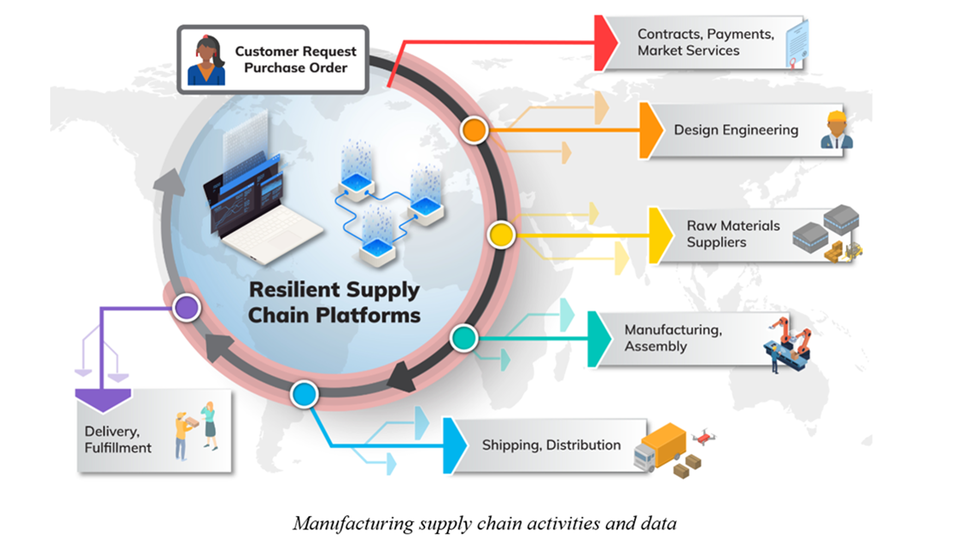 Manufacturing supply chains are increasingly susceptible to disruptions and are targets for bad actors seeking to steal proprietary information and/or sabotage products. To help industry, NIST published NIST Internal Report 8419, Blockchain and Related Technologies to Support Manufacturing Supply Chain Traceability: Needs and Industry Perspectives. The publication explains that tamper-evident and tamper-resistant information sharing technologies, like blockchain, can help create a supply chain ecosystem that assures traceability of products.
The publication gives an overview of manufacturing supply chains – connected sets of manufacturing resources, products, and processes, which typically are not linear, but web-like. To ensure a supply chain's integrity, manufacturing enterprises must track "provenance of products," defined as the chronology of the origin, development, ownership, location, and changes to a system or system component and associated data. Enterprises must also validate – or ensure the "pedigree" – of this supply chain flow.
The publication addresses such traceability requirements and the data sharing and storage technologies which could be used to meet them. These include blockchain, which is a distributed ledger that stores all network activity. Essentially, it creates a digital thread for a product, moving through the supply chain. Blockchain also has a two-step validation process. Once published, blockchain cannot be altered and it becomes an open record that users in a supply chain can access and verify the authenticity of all products' data.
The publication provides case studies on blockchain and related technologies, being used to improve traceability in manufacturing supply chains. These include:
Improving the yield of gluten-free raw materials, being processed from supplier to consumer

Demonstrating four proofs of concept for aviation supply chains

Tracing a digital supply chain from suppliers to a producer, and to the Department of Defense

Integrating blockchain into a Fortune 500 company's manufacturing lines

Enabling pharmaceutical companies to meet the Drug Supply Chain Security Act's requirements

Tracking RFID serialized data for products, moving from distribution centers to retailers.
Lastly, the publication describes research opportunities regarding blockchain and related technologies. CTL's Networked Control Systems Group will collaborate with the National Cybersecurity Center of Excellence (NCCoE) staff on future blockchain and related technologies to support manufacturing supply chain traceability.