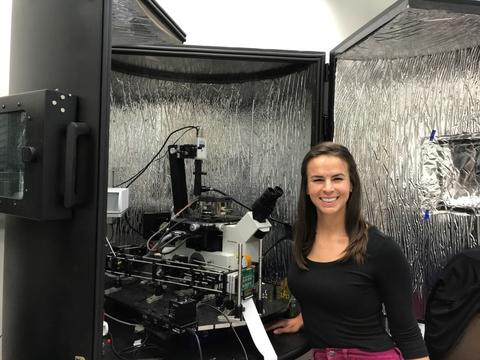 Callie I. Higgins, a materials research engineer at the National Institute of Standards and Technology (NIST), has won the Samuel J. Heyman Service to America Medal in the Emerging Leaders category.
Higgins is one of seven medal winners of 29 finalists selected from more than 350 nominations for the "Oscars of public service." Medalists are chosen based on their leadership and innovation, as well as the impact of their work on the health, safety and prosperity of the country. 
"At 31, Higgins and her colleagues invented a groundbreaking technology to detect and remedy microscopic flaws that threaten the safety and reliability of 3D-printed products, potentially revolutionizing the medical, plastics, coatings, optics and additive manufacturing fields," the citation reads.
"We are extremely proud of Callie's accomplishments and recognition with a Samuel J. Heyman Medal," said James K. Olthoff, who is performing the non-exclusive functions and duties of the under secretary of commerce for standards and technology and director, NIST. "Her creativity, innovation and collaborative efforts have opened up incredible new possibilities for 3D printing, and her leadership and dedication serve as an inspiration to young researchers everywhere."
In a symbol of Higgins' focus on achievement, she found out she'd won the "Sammies" medal on the day she returned from summiting Alaska's Denali, the tallest peak in North America at 6,190 meters (20,310 feet).
Higgins conducts research to improve a 3D-printing technique that uses light to "cure" liquid plastics into solid materials. She is particularly interested in its potential use in regenerative medicine and on-demand, custom large-scale manufacturing of plastics, coatings and optical components. 
"The technology has the potential to enable the production of patient-specific artificial organs," Higgins said. "I want to do everything I can to ensure this becomes a reality." To this end, NIST is working on an agreement with several companies to 3D-print artificial organs. 
Higgins and her colleagues developed a technique that enables scientists and engineers to detect, remedy and even reverse-engineer microscopic manufacturing flaws that develop during the 3D-printing process. The team's novel microscopy method measures how and where a material's properties change in real time at the smallest scales as curing progresses. The value provided by these measurements has led to NIST's partnering with a trade association to form the Photopolymer Additive Manufacturing Alliance, which will work to achieve key milestones identified by the industry.
Regarding public service, Higgins said NIST is the "perfect environment" because it promotes innovation by convening academia, government and entire industries. 
In addition to her research, Higgins helps her colleagues by leading NIST's Postdoctoral and Early-Career Association of Researchers. She also founded the Front Range Industry and Postdoc Summit, which brings early-career scientists together with industry to foster collaboration and employment opportunities. As a result of her efforts, dozens of early career scientists have found jobs and mentoring opportunities.
"In addition to her keen scientific intellect and exceptional creativity, Callie displays remarkable leadership and team building skills that have greatly expanded the impact of her science and stimulated unique partnerships within her field," said Stephanie Hooker, acting director of NIST's Material Measurement Laboratory. "Her recognition as an emerging leader with this Sammie is extremely well-deserved, and I am excited to see what amazing achievements are yet to come in her future."
The in-person awards ceremony will be held on Thursday, Oct. 28, at 6 p.m. EDT, at the John F. Kennedy Center for the Performing Arts in Washington, D.C.
Samuel J. Heyman Service to America medalists are chosen by a selection committee composed of leaders from government, business, charitable organizations, academia, entertainment and media. For further information, visit the Service to America website.