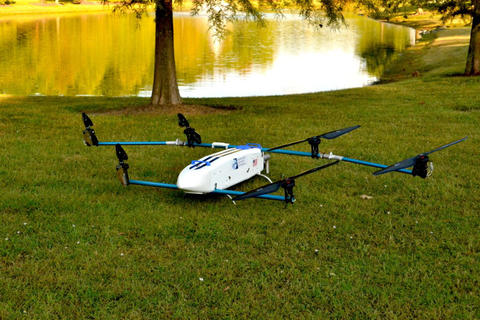 BOULDER, Colo. — The U.S. Department of Commerce's National Institute of Standards and Technology (NIST) recently announced the four winners of the 2021 PSCR First Responder UAS Endurance Challenge. In the four-stage challenge, participants designed, built and flew an unmanned aircraft system (UAS) with the goal of flying for the longest time possible while carrying a 10-pound (4.5-kilogram) payload. The first-place prize of $100,000 went to Team AAC from Advanced Aircraft Company; the second-place prize of $40,000 went to Team IE from Intelligent Energy Ltd; and the third-place prize of $20,000 went to Team ARCC from Penn State's Autonomous Robotics Competition Club. Additional honors were awarded to these teams and one other team, Team Endure Air, for eight $5,000 Best-in-Class prizes.  
"Our grant programs and prize challenges help us make great leaps forward in solving public safety concerns by initiating collaboration with industry, academia and the public safety community," said Dereck Orr, chief of NIST's Public Safety Communications Research (PSCR) division, which managed the challenge. "The challenge has helped advance our mission and UAS technology, with the winning team surpassing 112 minutes of flight time for FAA  Part 107 drone flights, which are systems weighing less than 55 pounds flown by certified drone pilots."  
One of the barriers for the public safety community is not having access to a UAS that can fly for long periods of time, 90 minutes or longer, while carrying a heavy payload. For example, in a typical search-and-rescue mission, emergency responders may be dispatched to a location where broadband LTE communications are unavailable. To maintain communications, a UAS equipped with an LTE system can be deployed to extend coverage to the emergency location. PSCR is exploring ways to optimize drones for increased flight endurance while making them more efficient and flexible for use by public safety workers. 
Contestants had to evaluate design trade-offs of UAS capabilities, such as vertical takeoff and landing (VTOL), payload capacity and energy source, with the goal of optimizing and improving flight time. Many of the contestants collaborated with their local first responder community and other experts in public safety to ensure the relevancy and applicability of their proposed solution. 
The challenge began in April 2019 and culminated with a final, virtual flight demonstration in June 2021. Competitors faced personal and technical challenges as a result of the global pandemic, prompting NIST to modify the schedule and, due to international travel restrictions, change the final event from an in-person, live competition to a virtual flight demonstration. Competitors were awarded a total of $455,000 in cash prizes.  
For more information about PSCR's First Responder UAS Endurance Challenge and other funding opportunities, please visit the NIST PSCR UAS challenge webpage. 
Since 2002, NIST's Public Safety Communications Research Program has worked to drive innovation and advance public safety communication technologies through cutting-edge research and development. PSCR works directly with first responders and the tech innovation community to address public safety's urgent need to access the same broadband communications and state-of-the-art technologies that consumers on commercial networks now expect. 
NIST promotes U.S. innovation and industrial competitiveness by advancing measurement science, standards and technology in ways that enhance economic security and improve our quality of life.