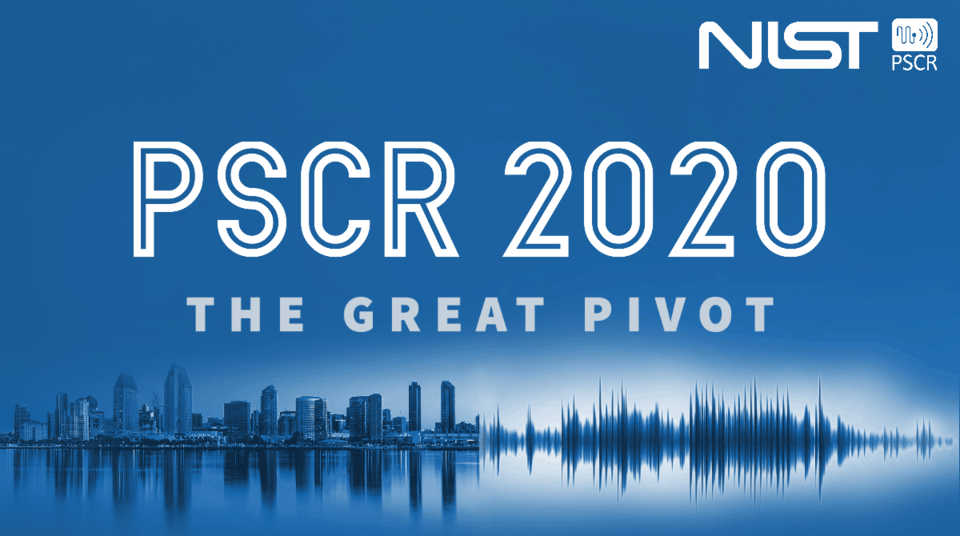 The pervasive global pandemic that swept across the world in 2020 has had a significant effect on businesses, travel, events, and more. For NIST's Public Safety Communications Research Division (PSCR), which annually convenes hundreds of people to share and discuss research advancements, there was no exception. Observing the Centers for Disease Control and Prevention guidelines, PSCR canceled its yearly in-person event for the first time in ten years.
Not to be deterred, the team at PSCR took a step back to determine its path forward. The Annual Public Safety Broadband Stakeholder Meeting is not just about getting together; it's about our commitment to transparency. To fulfill that commitment, it's fundamental that we share research updates and invite feedback from our various stakeholder groups. So, in evaluating how to proceed, we looked back to the PSCR Charter, which outlines the vision, mission, goals, and values under which we operate. When considering the change of plans in 2020, three foundational values guided our path forward: 
Put Public Safety Practitioners First

Simply put, program success depends on stakeholder involvement—especially those who work in public safety positions as chiefs, technologists, officials, and active duty first responders. They are the ultimate beneficiaries of our research, so collaborating with them to inform and guide our work—internally and through our award recipients—is essential in advancing our mission. Public safety practitioners are truly at the heart of why we do what we do.

Approach with Passion

PSCR researchers, staff, and collaborators genuinely care about the issues surrounding critical communications for first responders. Many of us have forged deep relationships working with firefighters, law enforcement, and emergency medical services personnel through researching technology gaps and user requirements. We believe that everyone—including citizens all over the world—benefits when public safety has the advanced communications technologies they require to operate safely and efficiently.

Be Curious and Adapt

With a focus on research, development, and innovation, PSCR is committed to asking questions, listening, and being insights-driven. In our daily work, we seek to understand public safety communications concerns, private industry perspectives, and governmental realities in order to make progress. As researchers, we anticipate that new learnings and inputs will influence our methods and require that we adapt; we make a plan, assess the data, and evolve and iterate as needed. We've applied this thinking to our 2020 circumstances as well; we've examined our purpose, understood feedback from previous in-person engagements, and considered how we work across multiple platforms to deliver stakeholders the information and updates they deserve.
Ultimately, we are adamant that the Stakeholder Meeting is too important to cancel outright. Therefore, with these values serving as our pivot point, we embraced a novel idea for a digital engagement that delivers research updates to stakeholders for their guidance, input, and feedback. Although we can't convene in person, PSCR's commitment to advancing first responder communications technologies remains steadfast.
It is said that "necessity is the mother of invention." As researchers, we are conditioned to accept that obstacles are bound to change the course of our approach. So, it's in that frame of mind we're prepared to pivot into something new using the creativity, ingenuity, and transparency that have been at our very core since inception. By leaning into our values, there's no doubt in our minds, that we will continue to press the mission forward. We hope you'll join us along the way. 
---
Get involved! Participate in PSCR 2020: The Digital Experience. Sign up now.
When you sign up, you'll get exclusive access to:
Live panels, featuring speakers from PSCR, the Texas Department of Public Safety, and the FirstNet Authority
More than 70 on-demand sessions, including new research updates across Augmented Reality, Data Analytics, and IoT topic areas
Webcast panels, including the previously announced SXSW panel—featuring representatives from PSCR, Cosumnes Fire, and Magic Leap
More than 55 on-demand technology demonstrations
An all-new commercialization track
Participate at your own pace. Weigh in from wherever you are. Sign up for free and help pull the future forward for public safety.