Two members of the NIST Flammability Reduction group recently attended the Ninth Triennial International Fire & Cabin Safety Research Conference, which was hosted by the Federal Aviation Administration (FAA) in Atlantic City, New Jersey.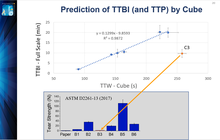 Dr. Mauro Zammarano delivered a presentation highlighting the results of a reduced-scale experiment (the "Cube Test") that aims to capture the effects of fire barriers (specifically, mass transfer and heat transfer phenomena) on the combustion behavior of multi-layered composite products including a flammable core material. Upholstered furniture was used as a case study to demonstrate the capability of the Cube Test (Fig. 1) to predict certain key behaviors that control or indicate full-scale fire performance (i.e., percolation of liquid pyrolyzates through the barrier layer and fire size prior to this event). New measurement data was also presented, which quantified one of the mechanisms of actions by which these fire barriers can act: specifically, heat transfer through the barrier to the flammable core material and how this insulating effect can change if the barrier degrades.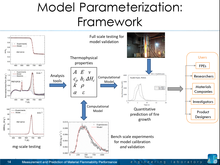 Dr. Isaac Leventon presented recent results of a collaboration with Dr. Morgan C. Bruns of the Virginia Military Institute (a former member of the NIST Flammability Reduction Group) focused on developing a material flammability database that couples experimental apparatus and measurement data, analysis tools, and computational modeling tools to provide the necessary framework to characterize the material properties and physical mechanisms controlling material burning behavior and to predict material response in a range of fire scenarios (Fig. 2). This presentation highlighted development of one of the analysis tools used in this database: a fully automated script that can automatically extract pyrolysis kinetic parameters and heats of combustion from thermogravimetric analysis (TGA) and microscale combustion calorimetry (MCC) data in less than one second. The algorithm was validated using experimental data obtained from a variety of synthetic polymers and natural fuels. 
These presentations support multiple projects in the Fire Research Division including the Flammability Reduction Technologies Project and the Reduced Flammability of Residential Upholstered Furniture Project as well as ongoing development of the NIST Fire Dynamics Simulator (FDS). PDF copies of each of the conference presentations highlighted here are available for download by clicking directly on Figures 1 and 2. 
More information about the Ninth Triennial International Fire & Cabin Safety Research Conference is available at: https://www.fire.tc.faa.gov/2019Conference/conference.asp