The 104th International Association for Identification (IAI) Educational Conference was held August 11-17 in Reno, Nevada. IAI is the oldest and largest professional forensic science association in the world and strives to be the primary association for those engaged in the pattern matching disciplines and crime scene investigation. One of the largest annual gatherings of stakeholders in the international forensic science community, this year's IAI Conference was one of the largest ever, drawing over 1,300 attendees from law enforcement, crime laboratories, academia, private sector manufacturers and forensic science service providers.  
The IAI conference provided an extraordinary opportunity for OSAC to inform the community about the forensic science standards that are currently available, those being developed, and to invite them to participate in the standards development process. Eight OSAC Members were there to share updates on the activities of their subcommittee.
---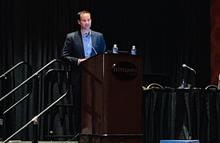 In his presentation, Henry Swofford, HJS Consulting, LLC and Chair of OSAC's Friction Ridge Subcommittee, discussed the activities and goals of the subcommittee and IAI's Latent Print Identification Science & Practice Subcommittee.
---
Steven Johnson, Past President of the IAI and Chair of OSAC's Forensic Science Standards Board (FSSB) provided an overview and update of the activities and goals of OSAC, and Melissa Gische, Chair of the Physics/Pattern Interpretation Scientific Area Committee (SAC) provided an update on the activities and goals of the SAC.
---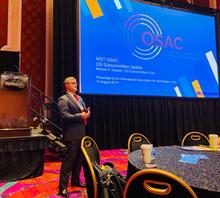 In his presentation, Michael Kessler, National Forensic Technology Center (NFSTC) at Florida International University and Chair of OSAC's Crime Scene Investigation Subcommittee, spoke about the crime scene investigation and reconstruction documents moving through the OSAC Registry Approval process, those under development, and those that will be developed.
---
Neal Gieselman, member of OSAC's Facial Identification Subcommittee, discussed the collaborative efforts between OSAC and FISWG and gathered audience feedback on what other focus areas should be investigated in the discipline. 
---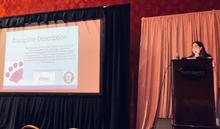 Lora Sims, Ideal Innovations, Inc. and Chair of OSAC's Facial Identification Subcommittee shared an overview of recent activities of the subcommittee and the Facial Identification Scientific Working Group (FISWG) during her presentation.
---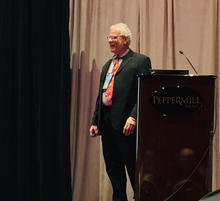 Toby Wolson, Noslow Forensic Consultations, LLC., and Chair of OSAC's Bloodstain Pattern Analysis Subcommittee described the subcommittee's progress in developing standards, recommendations, guidelines, and terminology for bloodstain pattern analysis programs and analysts. 
---
Rodney Schneck, Federal Bureau of Investigation and acting Chair of OSAC's Footwear and Tire Subcommittee, shared an update on the goals and activities of this subcommittee.   
---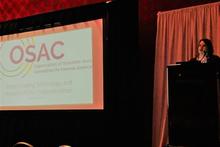 Julie Carnes, Target Forensic Services Laboratory and Chair of OSAC's Video/Imaging Technology and Analysis (VITAL) Subcommittee, highlighted the standards currently being developed and the projects in process by the VITAL Subcommittee. 
---
For more highlights from the 2019 IAI Conference, please visit OSAC's LinkedIn page.
OSAC looks forward to participating in and sharing the latest standards activities at IAI's 2020 Conference in Orlando, Florida.