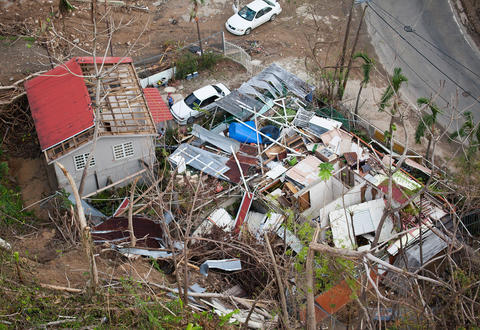 GAITHERSBURG, Md.—The U.S. Commerce Department's National Institute of Standards and Technology (NIST) announced it will study the impacts of Hurricane Maria on Puerto Rico, focusing specifically on the performance of critical buildings and their dependence on distributed infrastructure (such as electricity and water), as well as emergency communications and the public's response to those communications.
"The Department of Commerce is committed to enhancing the safety of every American citizen, from the mainland to island states and territories," said Secretary of Commerce Wilbur Ross. "The results of NIST's analysis will help us improve our codes, standards and practices in order to strengthen buildings and infrastructure in hurricane-prone areas. This will save lives and protect property in future storms."
Under the National Construction Safety Team (NCST) Act, signed into law in 2002, NIST is authorized to establish teams to investigate building failures that have resulted in substantial loss of life or that posed the potential for substantial loss of life.
"The National Construction Safety Team investigations provide practical new knowledge about the performance of America's buildings and their supporting infrastructure to help protect lives and ensure the resilience of buildings, building systems and critical services," said Under Secretary of Commerce for Standards and Technology and NIST Director Walter G. Copan. "This process will ensure that the nation captures and uses what we learn from the tragic losses experienced in the wake of Hurricane Maria in Puerto Rico."
Based on a preliminary reconnaissance to Puerto Rico in December 2017, Copan authorized the NCST investigation to determine:
the characteristics of the storm hazards—the pattern, location and cause of injuries and fatalities;
the performance of emergency communications systems and the public's response to such communications; and
the performance of representative critical buildings and designated safe areas in those buildings, including their dependence on infrastructure such as electricity and water.
Previous NIST investigations conducted under the NCST authority include the investigation of the 9/11 World Trade Center disaster; the 2011 Joplin, Missouri tornado; and the 2003 Station Nightclub fire in West Warwick, Rhode Island. This marks the first time NIST will conduct a full NCST investigation in the aftermath of a major hurricane.
The NCST investigation was announced in a Federal Register notice. 
To stay updated, visit NIST's Hurricane Maria NCST Investigation webpage. More information on NIST's 50-plus years of experience studying structural failures and disasters can be found on the NIST Disaster and Failure Studies page.
NIST promotes U.S. innovation and industrial competitiveness by advancing measurement science, standards and technology in ways that enhance economic security and improve our quality of life. NIST is a non-regulatory agency of the U.S. Department of Commerce. To learn more about NIST, visit www.nist.gov.