NIST Research and Investigation
(Español)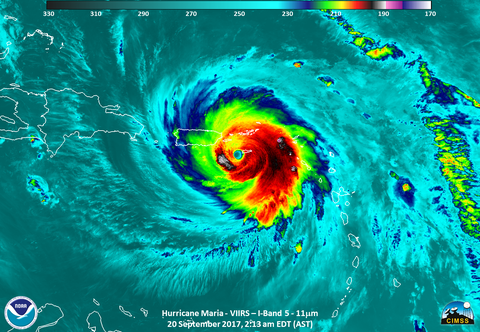 On September 20, 2017, Hurricane Maria devastated much of Puerto Rico, damaging buildings that its communities relied on for medical care, safety, communications and more. To better understand how the buildings and infrastructure failed, and how we can prevent such failures in the future, NIST has launched a multi-year effort to study how critical buildings performed during the storm, as well as how emergency communications systems worked.
The goal of this effort is to make recommendations to improve building codes, standards and practices to make communities across the U.S. more resilient to hurricanes and other disasters. NIST has a long history of studying disasters so that we can learn from them and improve our buildings or procedures. For example, after the World Trade Center disaster, NIST's recommendations led to changes in how we build buildings and respond to emergencies. Additionally, thanks to NIST's work studying the effects of tornadoes, building codes and communications practices have been changed to keep people safer.
In Puerto Rico, NIST will seek to understand Hurricane Maria's wind environment and the conditions that led to injuries and deaths; how critical buildings and designated safe areas within them performed—including their dependence on electricity, water, transportation and other infrastructure; how emergency communications systems performed and the public's response to such communications; and the impacts to, and recovery of, selected businesses, hospitals and schools, as well as the critical social functions they provide.
The NIST team plans to involve local and regional emergency management officials; building departments, transportation and other public utilities; education and healthcare officials and staff; and local, regional, and Commonwealth elected officials and civil servants as well as individuals. NIST also will coordinate with other federal agencies, private sector organizations, and academic institutions. Several contractors will assist the NIST team's engineers, sociologists, economists, meteorologists, and other researchers. Because NIST is not a regulatory agency, it does not issue new codes or standards. However, NIST will work with all relevant public and private citizens to encourage voluntary implementation of the recommendations in its final report.
Estudio e Investigación de NIST
El 20 de septiembre de 2017, el huracán María devastó gran parte de Puerto Rico y dañó los edificios en los que dependían sus comunidades para la atención médica, la seguridad, las comunicaciones y demás. Para comprender mejor cómo fallaron los edificios y la infraestructura, y cómo podemos prevenir tales fallas en el futuro, el NIST ha lanzado un esfuerzo de varios años para estudiar cómo se desempeñaron los edificios críticos durante la tormenta, y cómo funcionaban los sistemas de comunicaciones.
El objetivo de este esfuerzo es hacer recomendaciones para mejorar los códigos de construcción, los estándares y las prácticas para hacer que las comunidades de los Estados Unidos sean más resistentes/resilientes a los huracanes y otros desastres. El NIST tiene una larga historia de estudio de desastres para que podamos aprender de ellos y mejorar nuestros edificios o procedimientos. Por ejemplo, después del desastre de las Torres Gemelas en Nueva York (World Trade Center), las recomendaciones del NIST llevaron a cambios en la forma en que construimos edificios y respondemos a emergencias. Además, gracias al trabajo del NIST estudiando los efectos de los tornados, se han cambiado los códigos de construcción y las prácticas de comunicación para mantener a las personas más seguras.
En Puerto Rico, el NIST tratará de comprender el entorno eólico del huracán María y las condiciones que llevaron a las lesiones y muertes; cómo se desempeñaron los edificios críticos y las áreas de seguridad designadas dentro de ellos, incluyendo dependencia de la electricidad, el agua, el transporte y otras infraestructuras; cómo funcionaron los sistemas de comunicaciones de emergencia y la respuesta del público a tales comunicaciones; y los impactos y la recuperación de empresas, hospitales y escuelas seleccionadas, así como las funciones sociales críticas que brindaban.
El esfuerzo involucrará a funcionarios locales y regionales de manejo de emergencias; departamentos locales de construcción, transporte y otros servicios públicos; funcionarios y personal de educación local y regional; y funcionarios públicos locales, regionales y del Commonwealth; así como la coordinación con otras agencias federales. Dado que el NIST no es una agencia reguladora, la misma no puede emitir nuevos códigos o estándares. Sin embargo, el NIST trabajará con todos los servicios públicos y privados relevantes para implementar las recomendaciones en su informe final.