NIST Research and Investigation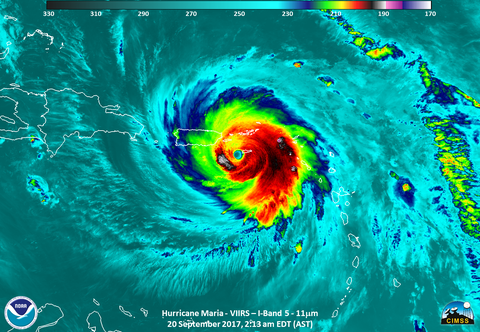 Hurricane Maria made landfall in southeast Puerto Rico near the town of Yabucoa at approximately 6:15 a.m. Atlantic Standard Time on September 20, 2017. Maria was listed as a strong Category 4 storm, with maximum sustained winds of 249 kilometers per hour (155 miles per hour). The storm tracked across the center of the island, from southeast to northwest, and produced up to 2.7 meters (8.9 feet) of storm surge. The hurricane also dumped greater than 25 centimeters (9.8 inches) of rain over much of the island, with even higher amounts 50-101 centimeters (20-40 inches) in some areas, causing hundreds of landslides across Puerto Rico. More information about preliminary data gathered on Hurricane Maria can be found here.
In response to this event, NIST has invoked the National Construction Safety Team (NCST) Act to investigate the impacts of Hurricane Maria on Puerto Rico. The goals of the NCST investigation are to characterize: (a) the wind environment and technical conditions associated with deaths and injuries; (b) the performance of representative critical buildings and designated safe areas in those buildings, including their dependence on infrastructure, such as electricity, transportation, and water; and (c) the performance of emergency communications systems and the public's response to such communications. 
NIST is also conducting research under the authority of the National Windstorm Impact Reduction Act to better understand recovery processes in Puerto Rico following Hurricane Maria. Hurricane Maria represents a unique opportunity to collect data on the widespread and long-lasting failures of buildings and infrastructure systems and their influence on the long-term provision of critical services to the residents of Puerto Rico, including healthcare, education, and the procurement of goods and services via the economic sector. 
The lessons learned from both the NCST investigation and the NWIRP study will lead to recommendations for improvements to building codes, standards and practices so that communities across the U.S. can become more resilient to hurricanes and other disasters.