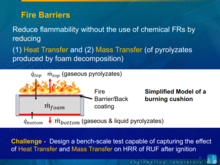 Four members of the NIST Flammability Reduction group traveled to Stamford, Connecticut for the 29th Annual Conference on Recent Advances in Flame Retardancy of Polymeric Materials (the 2018 BCC Flame Meeting).
Dr. Mauro Zammarano delivered an oral presentation highlighting the results of both bench-scale and full-scale experiments assessing the effects of backcoating and fire-barrier technologies (which do not necessarily require the use of chemically active flame retardants) on upholstered furniture flammability. A PDF copy of this presentation as available for download here .
The Flammability Reduction Group also presented two posters:
Dr. Ickchan Kim and Dr. Andre Thompson work (Fig. 2 ) highlighted the results of full-scale experiments assessing the effectiveness of a silicone backcoating (developed by NIST) to reduce the potential fire hazard (i.e. fire growth rate and peak heat release rate, HRR) of residential upholstered furniture.
Dr. Laura Dubrulle's work (Fig. 3 ) focused on the results of her recent experiments assessing commercially available fire-resistant coatings to inhibit the combustion of detached fuels (e.g. wooden fences) and thereby harden communities.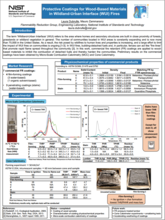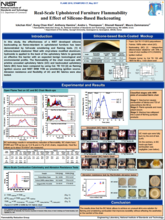 These presentations highlight the results of ongoing research conducted as part of the Reduced Flammability of Residential Upholstered Furniture Project and for Improving Wildland Urban Interface (WUI) Community Fire Protection.
More information can be found at the 2018 BCC Flame Meeting.