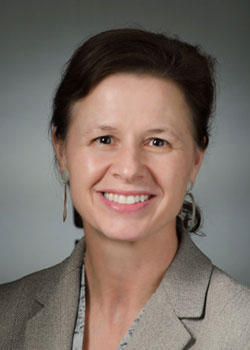 "A Message from the MML Director" appears in each edition of Material Matters, the quarterly magazine of NIST's Material Measurement Lab. This letter from MML Director Laurie Locascio is in the Fall 2016 issue of the magazine. (Click to subscribe.)
---
About five years ago, scientists from the Material Measurement Laboratory met with representatives from companies that make DNA sequencers and asked, "What can NIST do to help genome sequencing mature into a clinical tool?"
Once limited to research applications, genome sequencing was rapidly becoming fast and inexpensive enough to be used as a diagnostic tool and to guide treatment decisions for patients. It was clear to everyone in the field that sequencing technology had the potential to enable an individual's genetic profile to determine the best therapies for a disease—perhaps before it began to take a toll on a patient's health. To make genome sequencing a valid and powerful clinical tool, however, the field needed to minimize errors in the way a genome is sequenced and analyzed.
To address quality control, industry members said they needed well-characterized genomes. They wanted a widely available sample of DNA that had been extracted, sequenced, and "read" using a combination of different methods to help sequencer developers and clinical and research laboratories check their processes, equipment, and data analysis. This would help ensure that treatment decisions—as well as determinations about where to invest dollars for the development of improved hardware and software, and clinical research—were based on reliable data.
NIST responded with a "genome in a bottle": literally, little bottles of a highly characterized DNA (and the associated data) that are the world's first human genome reference material. Recently, NIST released three additional human genome reference materials, which you can read about on Page 5 of the Fall 2016 issue of Material Matters. A new reference material for bacteria also joins the toolkit.
Development of NIST's human genome reference materials is overseen by scientists at the Joint Initiative for Metrology in Biology, a partnership of the Material Measurement Laboratory and Stanford University, working with representatives from sequencing manufacturers, government agencies, and academia in what is now known as the Genome in a Bottle consortium. The consortium member's input will help NIST continue to enable new sequence techniques and clinical treatments, and is a textbook example of work that meets the NIST mission to assist a whole industry and contribute to the quality of life of all Americans.
Laurie Locascio, Ph.D.
Director, Material Measurement Laboratory
NIST