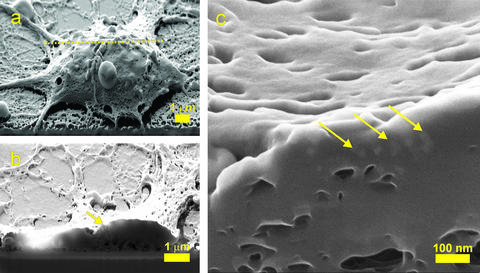 NIST's Precision Imaging Facility (PIF) in Boulder, Colo., provides a variety of advanced tools for precisely measuring the structure and chemical com­position of materials at sub-nanometer scales. These images were prepared for a recent NIST study that found that gold nanoparticles could be used as controls for in vitro neurotoxicology studies because they don't disrupt the cytoskeleton of developing neurons.
Two PIF imaging tools enabled researchers to prove that the 30-nanometer gold particles were actually inside neural progenitor cells—a new capability. The micrograph at (a) shows the cell after exposure to the nanoparticles. A focused ion beam was used to mill away portions of the cell to reveal the interior. Researchers can mill an entire cell to reveal multiple cross-sections obtaining information about nanoparticle uptake. Image (b) shows a cutaway view of the cell corresponding to the dotted line in (a). The arrow points to a cluster of nanoparticles, which were then imaged with high resolution by a helium ion microscope (c), revealing nanoparticles (light-colored dots) near the cell membrane. 
---
K.M. Jeerage, T.L. Oreskovic, A.E. Curtin, A.W. Sanders, R.K. Schwindt and A.N. Chiaramonti. Citrate-stabilized gold nanoparticles as negative controls for measurements of neurite outgrowth. Toxicology in Vitro. Published online Oct. 23, 2014. DOI:10.1016/j.tiv.2014.10.007.