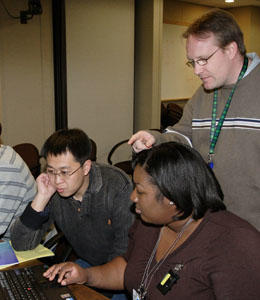 Dr. Craig Brown, an instrument scientist for the Disk Chopper Spectrometer at the NIST Center for Neutron Research, will receive a PECASE award for showing scientific excellence at an early stage of his career. Dr. Brown's research interests center on science underlying future energy technologies, especially those involving hydrogen storage.
To quote a White House press release of July 9, 2009,
"PRESIDENT HONORS OUTSTANDING EARLY-CAREER SCIENTISTS
President Obama today named 100 beginning researchers as recipients of the Presidential Early Career Awards for Scientists and Engineers, the highest honor bestowed by the United States government on young professionals in the early stages of their independent research careers. The recipient scientists and engineers will receive their awards in the Fall at a White House ceremony."