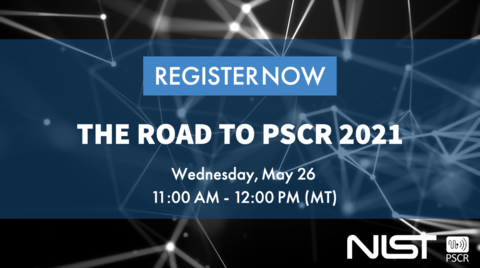 Since 2010, NIST's Public Safety Communications Research Division has held an annual Stakeholder Meeting to receive direct input, guidance, and feedback from public safety stakeholders across sectors. This information exchange has been invaluable to the success of the PSCR program and advancement of public safety communications technologies. In 2021, PSCR is hosting a digital experience to share research advancements from 2020, and facilitate the opportunity to interact with researchers in real-time during plenary sessions, technology demonstrations and live Q&A. 
If you're new to PSCR or have never attended a Stakeholder Meeting, this session is for you! Join us on May 26th to hear a detailed program history from PSCR's Division Chief, Dereck Orr, and an introduction to the features of PSCR 2021 The Digital Experience from Kerianne Gibney, PSCR Program Support Specialist. Register now! 
---
Dereck Orr, PSCR Division Chief
Dereck Orr is the Division Chief for PSCR at NIST's Communications Technology Laboratory and has held that position since December 2002. In that role, he leads the PSCR program that serves as an objective technical advisor and laboratory to FirstNet, the Department of Homeland Security, and public safety to accelerate the adoption and implementation of the most critical public safety communication standards and technologies. From October 2003 to October 2004, Mr. Orr was detailed to the Department of Homeland Security to serve as the Chief of Staff of the SAFECOM Office within the Science and Technology Directorate, to help establish the new program. Prior to working at NIST, Mr. Orr served as a professional staff member of the Senate Appropriations Subcommittee for the Departments of Commerce, Justice, and State, and Related Agencies under Senator Fritz Hollings. In that position, Mr. Orr was responsible for the appropriations accounts relating to state and local law enforcement issues. Prior to that, Mr. Orr served four years at the Office of Community Oriented Policing Services (COPS) at the Department of Justice. Mr. Orr received a Master's in Public Policy from the College of William and Mary and a Bachelor's of Arts in American History from the University of Texas at Austin.
Kerianne Gibney, PSCR Program Support Specialist
Kerianne Gibney is a Consultant with Corner Alliance, Inc., supporting the PMO team at PSCR. As part of the PMO team, Ms. Gibney supports and leads stakeholder engagement efforts, such as PSCR 2021 The Digital Experience. Ms. Gibney graduated from the University of Maryland, College Park in 2018 with a Bachelor of Science in Public Health Science and minors in Spanish and Public Leadership.