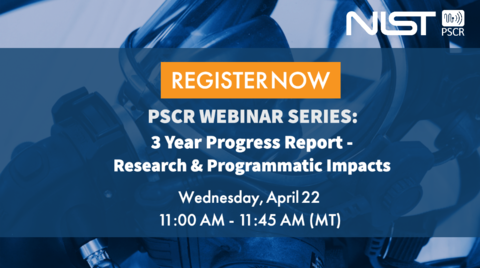 The Public Safety Communications Research Division's (PSCR) mission is to bring advanced capabilities to first responders and have a measurable impact on their ability to protect and save lives and property. Join us for our next webinar on Wednesday, April 22nd from 11:00 AM - 11:45 AM (MT), in which PSCR's Division Chief, Dereck Orr, and Prize Competition and Challenge Specialist, Jeremy Glenn, summarize PSCR's most exciting research impacts over the last three years. 
During this presentation, you will get an exclusive look at the forthcoming PSCR Impact Report and have the opportunity for a direct Q&A with PSCR's Division Chief. Read more about the speakers below and register now! 
---
Dereck Orr, PSCR Division Chief
Dereck Orr is the Division Chief for PSCR at NIST's Communication Technology Laboratory and has held that position since December 2002. In that role, he leads the PSCR program that serves an objective technical advisor and laboratory to FirstNet, the Department of Homeland Security, and public safety to accelerate the adoption and implementation of the most critical public safety communication standards and technologies. From October 2003 to October 2004, Mr. Orr was detailed to the Department of Homeland Security to serve as the Chie of Staff of the SAFECOM Office within the Science and Technology Directorate, to help establish the new program. Prior to working at NIST, Mr. Orr served as a professional staff member of the Senate Appropriations Subcommittee for the Departments of Commerce, Justice, and State, and Related Agencies under Senator Fritz Hollings. In that position, Mr. Orr was responsible for the appropriations accounts relating to state and local law enforcement issues. Prior to that, Mr. Orr served four years at the Office of Community Oriented Policing Services (COPS) at the Department of Justice. Mr. Orr received a Master's in Public Policy from the College of William and Mary and a Bachelor's of Arts in American History from the University of Texas at Austin.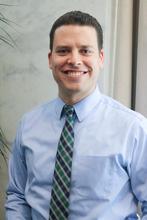 Jeremy Glenn, Prize Competition and Challenge Specialist
Jeremy Glenn joined PSCR's Open Innovation team in June 2019 and serves as a Prize Competition and Challenge Specialist. In this role, he designs, implements, and manages all aspects of prize competitions to advance PSCR's mission. Prior to PSCR, Jeremy was a licensed attorney in Virginia practicing estate planning and estate administration law. Jeremy is currently a Fellow in the Presidential Management Fellowship (PMF) Program. His federal public service includes Pathways Legal Internships with the DoD Inspector General and the FDIC. Jeremy holds a J.D. from the Antonin Scalia Law School at George Mason University, a Master's of Government from the Robertson School of Government at Regent University, and a Bachelor's of Arts in Public Policy from William Jessup University.