Register to Attend OSAC's Annual Public Update Meeting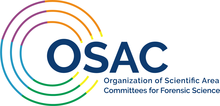 Want to know more about all the standards and other activities OSAC has been working on? Join us September 29, 2021 for OSAC's Annual Public Update Meeting! This virtual event will feature presentations from the chairs of OSAC's seven Scientific Area Committees and the Forensic Science Standards Board. Each presenter will describe their unit's activities, including the standards they are working on, challenges being addressed, and priorities for the upcoming year. Attendees will also have an opportunity to ask questions and share feedback. Learn more and register.
Other Forensic Science News, Events, & Training
AAFS Standards Board (ASB)
The ASB has published an updated Manual and Style Guide for ASB Standards, Guidelines, Best Practice Recommendations, and Technical Reports and also has an ASB Supplemental Style Guide as a companion document to this manual. There are some significant changes to this updated version, including more detailed descriptions of the ASB document types, standards and best practice recommendations, and the addition of an ASB Guideline document type. There are additional details on Normative References, Terminology, and Scope writing. The manual and supplemental style guide are available on the ASB website.
Center for Statistics and Applications in Forensic Evidence (CSAFE)
CSAFE invites forensic science practitioners to participate in a survey on how they prefer to learn about new technologies, research studies, and statistics. The survey takes approximately five minutes to complete and will be open until September 30, 2021. Learn more and take the survey. 
CSAFE has announced the lineup for its fall 2021 webinar series, beginning September 22 and continuing through December 9. The following webinars are free and open to the public. Researchers and members of the forensics and statistics communities are encouraged to attend. Learn more and register.
A Survey of Fingerprint Examiners' Attitudes Towards Probabilistic Reporting | September 22 |11:00 a.m. – noon CDT
Bloodstain Pattern Analysis Black Box Study | October 14 | 11:00 a.m. – noon CDT
Using Mixture Models to Examine Group Differences: An Illustration Involving the Perceived Strength of Forensic Science Evidence | December 9 | 9:00 – 10:00 a.m. CST
Forensic Technology Center of Excellence (FTCoE)
NIJ's FTCoE provides evidence-based resources about forensic technologies and emerging challenges. 
On September 30, Lesley Hammer, Vice Chair of OSAC's Physics/Pattern Interpretation SAC, will be presenting at the upcoming FTCoE webinar, Footwear Evidence Conclusions: A Discussion of Standards, Recommendations, and Structure. This webinar will provide an opportunity to discuss some of the post-SWGTREAD considerations for articulating findings (interpretations, limitations, opinions, and results) as well as a platform to exchange thoughts, consider suggested conclusion structures, and observe examples related to articulating footwear evidence conclusions. Learn more and register. 
National Institute of Justice (NIJ)
Subscribe to NIJ's forensic list (https://nij.ojp.gov/subscribe) to see the latest NIJ awards, solicitations, events, and publications.