Webinar: Biology/DNA Standards and Best Practices Developed by OSAC and ASB - Part 4
Join OSAC, ASB and Promega on Wednesday, January 20, 2021 at 12 p.m. EST for a webinar about ANSI/ASB Standard 018, Standard for Validation of Probabilistic Genotyping Systems, First Edition 2020.
Register here to learn:
How this document was conceived, written and developed into a published standard
The key points covered by the standard
How to implement the standard in a forensic science laboratory
This is the fourth webinar in the series providing information on new/emerging standards and best practice recommendations for forensic biology and DNA testing laboratories. Click the links below to view the three other webinars in this series:
CSAFE's December 2020 Newsletter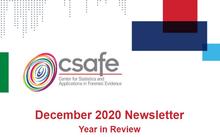 Our colleagues at The Center for Statistics and Applications in Forensic Evidence (CSAFE) published their December 2020 Newsletter. Check it out to access the two CSAFE Center Wide Webinars, Crime Lab Proficiency Testing and Quality Management and Mock Juror Perceptions of Forensics, as well as to look back at the other CSAFE highlights from 2020.
Get Involved with OSAC
OSAC offers a variety of ways for members, affiliates and other experts in the forensic science community to participate in the standards advancement process. Click here to learn how you can help make an impact on the forensic science community through standards.