By Jose Almirall, Chair of the Chemistry/Instrumental Analysis SAC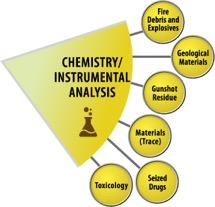 Chemistry and Instrumental Analysis SAC
The Chemistry SAC has drafted a more detailed mission statement and roadmap including initiatives to provide more guidance and direction to the subcommittees, provide better coordination between overarching topics within the disciplines and fostering implementation of OSAC-approved documents. For example, ASTM E2329 "Standard Practice for Identification of Seized Drugs," the SC members will contact laboratories to determine how many forensic science service providers are using this standard.
The virtual subcommittee working on the Education and Training standard is making progress and will present the standard to the Chemistry SAC for approval soon.
Fire Debris and Explosives (FD&E):
The FD&E SC pitched a guide for the forensic examination and identification of intact explosives in Houston.
E1618 "Standard Test Method for Ignitable Liquid Residues in Extracts from Fire Debris Samples by GC/MS" will be examined and potentially broken up and worked on. Potentially interpretation and classification to be separate documents. FD&E also plans to work on a third component to cover GC/MS.
Toxicology:
Two (2) pitch meetings were presented in Houston.
ANSI/ASB 017: "Standard for Measurement Traceability in Forensic Toxicology" document passed. Notice of intent to publish on the OSAC registry has been submitted to the FSSB and the document will go out for public comment.  
Documents in the review process include:
ANSI-ASB 036: "Standard Practice for Method Validation in Forensic Toxicology"-2nd round of comments closed Monday, 05 Nov. 2018.
ANSI-ASB 053: "Standard Practice for Report Content in Forensic Toxicology"-1st round of comments closed Monday 05 Nov. 2018.
ANSI-ASB 037: "BPR: Opinions and Testimony on Toxicology" document has completed its 2nd round of adjudication and is going to ANSI.
ANSI-ASB 054: "Quality Control" document will be out soon for public comment for the first time.
Identification point scheme document-Minimal number of points to ID most samples; document is with SC for two weeks, then will be pitched telephonically possibly in December. 
Progress was made on the following work products.  Pitch meetings are likely by the next in-person meeting.
"Ethanol Calculations" document: pitch meeting potential by next in-person meeting.
Required Scope and Sensitivity documents: pitch meeting potential by next in-person meeting.
ANSI/ASB 056 "Measurement of Uncertainty in Forensic Toxicology": pitch meeting potential by next in-person meeting.
Materials:
The Fibers TG presented three pitch meetings in Houston (E2224, E2225, E2228 and a "Thin Layer Chromatography" draft document). An FTIR analysis of fibers and a guide for human hair examinations were also pitched.
The Paint TG is working on E2808 "Standard Guide for Microspectrophotometry in Forensic Paint Analysis", comments from ASTM, and will work on SEM analysis of paint document.
Tape group reviewed tape and paint training guides and discussed a pyGC (Pyrolysis Gas Chromatography) of tape document.
GSR:
The GSR SC pitched a report writing document in Houston.
The GSR training document and adjudication of some ASTM comments will be reviewed.
ASTM 1588 will be reviewed by the Chemistry SAC before it is sent to ASTM for SDO approval.
Seized Drugs:
The Seized Drugs SC discussed the following documents in Houston:
1) Guidelines for blind testing,
2) Draft interpretation laboratory guidelines: Evaluation libraries and creation of libraries and 3) IR evaluations documents.
The GC/MS interpretation document closed in ASTM with only a few administrative comments.
E2882 "Standard Guide for Analysis of Clandestine Drug Laboratory Evidence;" plan for resubmission to ASTM.
Geological Materials: 
"Standard Guide for the Collection of Soils and Other Geological Evidence for Forensic Applications;" addressing feedback. Close to sending to SDO.
"Standard Guide for Determination and Comparison of Color by Visual Observation in Forensic Soil Examination." Close to sending out for initial comments and pitch meeting.
"Standard Guide for the Forensic Analysis of Geologic Materials by Powder X-Ray Diffraction." Close to sending out for initial comments and pitch meeting.
- Other documents the SC is working on:
- General analysis guide;
- Polarized light microcopy of mineral;
- SEM-EDS.
The documents may be ready for final discussion in the January SC meeting and followed by a pitch meeting before the next in-person meeting.
-  R&D needs were addressed and will be forthcoming to the SAC.