Message from the OSAC Affairs Director
by Mark Stolorow, OSAC Affairs Director
The old clock on the wall is reminding me that it will soon be time for me to make a transition in OSAC and I wanted to say thank you to all of you who have contributed to the launch and successes of this incredible organization.  On January 4, 2019, I will be retiring from NIST and turning my current duties over to two other exceptionally able-bodied individuals.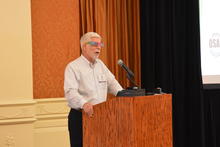 John Paul Jones II will take over my responsibilities in directing the OSAC Affairs team and Karen Reczek will assume my role as the NIST Ex-Officio Member of the FSSB.  Both of them are far more capable than I in managing the affairs of OSAC and representing NIST on the FSSB.  I know that I am leaving you in good hands.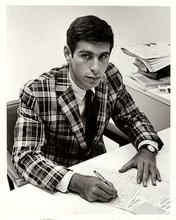 At the invitation of our FSSB Chair Steve Johnson, I plan to rejoin the FSSB as an affiliate and serve on the FSSB Outreach and Communications Task Group.  It will be an honor for me to participate in outreach to the relevant stakeholder groups to promote the adoption of OSAC Registry standards by the nation's forensic science service providers.  There is also much work ahead to engage other stakeholder groups including the criminal justice community, educators, researchers and accreditation bodies to heighten awareness and enthusiasm for the implementation of OSAC Registry standards in courtrooms, classrooms and quality assurance audits.
Standards implementation is certainly where the rubber meets the road in the criminal justice system, but adoption would be inconceivable without the initial development of high-quality standards.  The history leading up to this point might seem convoluted to some, but the evolution is traceable directly to the NAS Report Recommendations 5-8 calling for the development and adoption of high-quality standards. Comparing where the forensic science community was in 2009 with today, the enormous progress toward harmonization and standards improvement is attributable in no small measure to the collective efforts of the nearly 800 members and affiliates of OSAC.  This organization is unique and the members who have contributed to its birth, growth and achievements have every right to be proud of what OSAC has achieved.  There has never been an effort of this magnitude focused specifically on improving the quality of forensic science standards across so many disciplines under one roof.  During my forty years as a member of the forensic science community, there has never been the purely voluntary effort of so many of the nation's most respected experts to debate, assess and prescribe high-quality drafts of standards that are technically sound and consensus-based.  Despite passions occasionally running high, the collective energy the members of OSAC put forth dedicated to the mission of improving standards shows the high level of commitment OSAC demonstrates in its desire to strengthen the practice of forensic science.
I want to share my overwhelming gratitude with each and every one of you who has participated in this process.  Kudos to all of you who are responsible for making OSAC what it is today and for all of the progress yet to come.  It has been an honor to be your teammate.  I am looking forward to the next chapter together.  Thank you.
Mark Stolorow
Director of OSAC Affairs
FSSB NIST Ex-Officio Member
For more information regarding Mark's career, see: https://www.nist.gov/blogs/taking-measure/forensic-science-my-dna