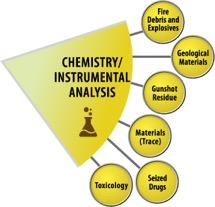 The FSSB recently approved the following standards for inclusion onto the OSAC Registry:
ASTM E2927-16e1: Standard Test Method for Determination of Trace Elements in Soda-Lime Glass Samples Using Laser Ablation Inductively Coupled Plasma Mass Spectrometry for Forensic Comparisons.
ASTM E2937-18: Standard Guide for Using Infrared Spectroscopy for Forensic Paint Examinations.
ASTM E1610-18: Standard Guide for Forensic Paint Analysis and Comparison.
ASTM E3085: Standard Guide for Fourier Transform Infrared Spectroscopy in Forensic Tape Examinations has also been approved by the FSSB, but is currently in the appeals process.
The following documents are under review before being sent to the SDO (ASTM):
Fire Debris and Explosives Analysis subcommittee
Standard Guide for a Systematic Approach to the Analysis and Identification of Ignitable Liquids.

Standard Practice for Quality Assurance of Laboratories Performing Analysis of Ignitable Liquids and Ignitable Liquid Residues.
Materials (Trace) Subcommittee
E2808 - MSP of Paint - first ballot of the mandatory 5 year revision. Substantial changes have been made.

WK64632 - Paint training guide - a new document to assist with guidance in conducting or participating in a forensic paint training program.

WK64633 - Tape training guide - a new document to assist with guidance in conducting or participating in a forensic tape training program.
The following document is being readied for a SC ballot to send to ASTM (by way of a public comment period followed by a SAC vote):
Forensic Hair Examination - this will be a new document
Geological Materials Subcommittee
Standard Guide for the Collection of Soils and Other Geological Evidence for Forensic Applications. 
Toxicology Subcommittee
Standard for Mass Spectral Data Acceptance in Forensic Toxicology has passed at the subcommittee level. The task group membership included members and affiliates from the Toxicology and Seized Drug subcommittees.
The following documents were presented to the subcommittee for feedback during the in-person meeting in Chicago in March 2018:
Standard Practices for Estimating Measurement Uncertainty of Quantitative Measurements in Forensic Toxicology.

Standard for the Scope and Analytical Sensitivity of Forensic Toxicological Testing in Drug-Facilitated Crime Investigations.

Standard for the Scope and Sensitivity of Forensic Toxicological Testing in Impaired Driving Investigations.

Standard Identification Criteria for Analytes in Forensic Toxicology.

Best Practices for Alcohol Retrograde Extrapolation

.
Two additional research needs documents were approved in March. They can be found on the OSAC Toxicology Subcommittee website.
OSAC subcommittee members participated with the AAFS ASB Toxicology Consensus Body members to adjudicate public comments received as part of the AAFS ASB SDO process. Two OSAC drafted documents are nearing completion of the adjudication phase.
The following document is at the Review Stage with the SAC and Resource Committees (RA-30), prior to asking for a vote by the SAC to proceed with RA (RA-75):
ANSI/ASB 017:  Standard for Measurement Traceability in Forensic Toxicology
The following document has been recirculated by the ASB following adjudication of public comments:
ANSI/ASB 037:  Opinions and Testimony in Forensic Toxicology (Recirculation closed on August 6, 2018)
Seized Drugs Subcommittee
The Seized Drugs subcommittee also finalized (in collaboration with two separate ASTM working groups) 5-year revisions of two additional documents:   E2764-11: Standard Practice for Uncertainty Assessment in the Context of Seized-Drug Analysis and E2882-12: Standard Guide for Analysis of Clandestine Drug Laboratory Evidence.  The revised versions of these two documents are with ASTM and are being balloted and available for vote and comments at the SDO level.
Gunshot Residue Subcommittee
ASTM E1588-17: Standard Guide for GSR Analysis by SEM/EDS will be voted on by the Chemistry SAC soon to be forwarded to the FSSB for consideration to be added to the OSAC Registry.