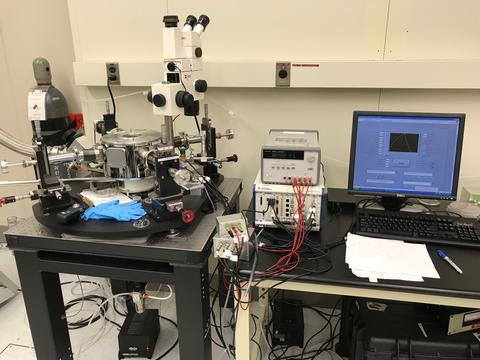 This Nanocalorimeter Measurement System is used for nanocalorimetry measurements at fast heating rates (100 °C/s to 100,000 °C/s) and measurements of samples with very small mass (typically 100 nanograms or less).  The chamber can be used for measurements in many different environments - dry air, humidified air, ultra high purity nitrogen, ultra high purity argon, forming gas (5% hydrogen), carbon dioxide, and high vacuum.  The chamber has a liquid nitrogen cryostat for measurements as low as -196 °C and as high as 1200 °C.
The system has a 24-bit, 200,000 Sample/second data acquisition system, and is operated using LabView control software.   This is a versatile instrument that can measure the thermal properties (heat capacity, transition temperatures, enthalpy) of many different types and morphologies of materials.
Related Publication
Nanocalorimetry coupled Time-of-Flight Mass Spectrometry:  Identifying evolved species during high rate thermal measurements"
"Interactions of Adhesion Materials and Annealing Environment on Resistance and Stability of MEMS Platinum Heaters and Temperature Sensors"
"Hydrated / Dehydrated Lipid Phase Transitions Measured Using Nanocalorimetry"
"Studying exothermic reactions in the Ni-Al system at rapid heating rates using a nanocalorimeter"
"Dynamics of solidification in Al thin films measured using a nanocalorimeter"
"Nanoscale Thermal Analysis for Nanomedicine by Nanocalorimetry"
"Measurement of heat capacity and enthalpy of formation of Nickel Silicide using Nano-calorimetry"