Every manufacturer—from pre-production design to raw material ordering, production, and sales—uses and creates data. Likewise for others in the supply and sales ecosystem. Without standards to make that data portable and usable to everyone, communications and new AI capabilities related to products, processes, inventory, pricing, and other matters are prone to be slow and error-strewn. Unfortunately, to date, data exchange standards have been too complicated and expensive for widespread adoption.
Score is an open-source software platform that helps enterprises efficiently deploy data exchange standards for transferring and using high-quality data across the digital world.
See below for more information on the Score platform.
Download Score
Score is available for free on GitHub. You can find the most up-to-date user guide here.
Implementers
Want to learn more about how you can adopt Score to improve your business? Check out the following pages:
Product datasheet (coming soon)
Collaborators
Interested in learning about how Score is made or working with the NIST team to improve Score? Check out the following pages:
---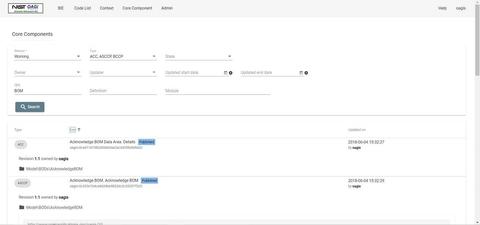 What is Score?
Score, a creation of NIST's Engineering Lab and the Open Application Group (OAGi), is a platform that helps the manufacturing industry better communicate across organizations, both within an enterprise (internally) and across supply chains (externally). It does this by helping enterprises adopt data exchange standards that are more efficient and higher quality. Score is an open source software platform, meaning that other tools and applications can be built on top of it. It is also deployable, meaning that enterprises can adapt it for their own uses.
Score is used by a range of professionals, from software vendors and system integrators to manufacturers (large and small), academics, and standards development organizations. It is a flexible platform, and stakeholders from the agri-food, chemical, aerospace, automotive, and financial industries are finding ways to use Score to make their day-to-day business dealings more flexible and agile.
Core Problem
A common problem in software integration is that data exchange standards—which allow data to be moved and correctly used across the digital world—are complicated and expensive. This issue is not restricted to online business. In fact, governments, businesses, and any other organization that relies on software systems to operate across their own or partner organizations has this problem, too.
Analysis
This problem stems from a larger issue: systems need to be better integrated. When organizations began digitalizing their product information, it created lots of potential to increase agility and resilience in processes and supply chains. But the methods for capturing and using these digitalized data are now outdated, making it expensive and time intensive to use them to an enterprise's advantage.
Results
Score has innovative functionalities—such as standard profiling management (also known as implementation specification management), standard release management, and code list management—that are digitally connected such that integration design tasks can be efficiently coordinated and automated. Enterprises that have adopted Score as part of their integration solutions have seen up to a threefold drop in the time it takes to make and maintain data exchange standards and implementation specifications.