Active participation in the Community Resilience Panel offers a unique opportunity to strengthen the resilience of buildings and infrastructure systems by recommending improvements to standards, guidelines, best practices and other tools.
The Panel will develop products, such as guidance, best practices, project plans, case studies, and recommendations to address specific resilience topics or gaps in current codes and standards. The Panel will also develop and maintain a Resilience Knowledge Base (RKB) of informative reference materials and products for communities.
Panel's Mission
The Panel is a forum to achieve broad stakeholder collaboration and consensus around goals and actions needed to achieve community resilience and to derive benefits from that improved resilience. The Panel will carry out its mission by:
Creating a forum to achieve broad stakeholder collaboration and consensus around goals and actions needed to achieve community resilience.
Evaluating existing metrics and standards to determine where improvements can be made to enhance resilience.
Identifying methods that can improve the resilience of communities by considering the adequacy of codes and standards.
Participating in the development coordination and harmonization of guidelines, best practices, and other tools that enhance the performance of buildings and infrastructure systems.
Developing and maintaining a RKB, a publicly accessible repository of information and reference materials to support communities in enhancing their resilience.
How the Panel Works
Panel members will participate in an open, transparent process. All meetings will be open to anyone, and all progress will be reported online. For additional information on how to join go to www.CRPanel.org. More than 350 members have joined already. 
NIST and five other federal departments and agencies are cosponsoring the Panel: the Department of Housing and Urban Development's (HUD's) Office of Economic Resilience, the Environmental Protection Agency (EPA), the Commerce Department's National Oceanic and Atmospheric Administration, and two organizations in the Department of Homeland Security: the Federal Emergency Management Agency (FEMA) and the Office of Infrastructure Protection.
Panel Stakeholder Categories
Building Construction and Safety
Civil Services/Infrastructure

Social and Economic Functions
Governance
Community Resilience Panel Structure
The Panel is guided by a Coordinating Committee (CRPCC) that approves and prioritizes work and arranges for the resources necessary to carry out its planned activities. The CRPCC will include at least one member from each Stakeholder Category, chairs of permanent committees, several members at large, and several ex officio members representing key government agencies and others.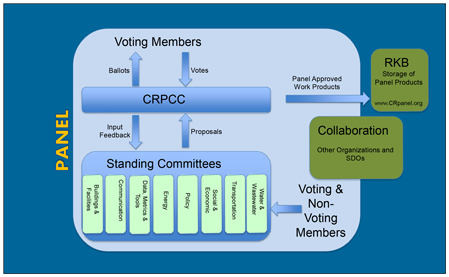 The Coordinating Committee's responsibilities include facilitating dialogue with standards developing organizations to ensure that proposed plans can be implemented. Standing Committees will represent sectors and systems relevant to community resilience. They will be responsible for compiling and maintaining a web-based Resilience Knowledge Base listing important reference materials for implementing community resilience plans, including the results of the Panel's own work. Working Groups will address specific issues within or across topic areas.
Panel Standing Committees*
Buildings and Facilities
Communications
Data, Metrics and Tools
Energy

Nominations
Social and Economic
Transportation
Water and Wastewater
The Panel structure will be contingent upon the concurrence of the Panel members and may change.
Panel membership applications are accepted on a continuous basis. More information about the Panel, its Charter and Bylaws see: www.CRPanel.org.
*The Panel may form additional standing committees and working groups.