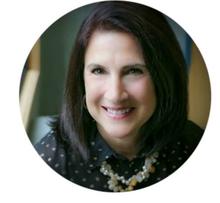 BONNIE DEL CONTE
President & CEO
Bonnie leads the development and execution of CONNSTEP's strategic plan, supporting Connecticut manufacturers in process improvement and technology advancement. She serves as the Director of the NIST Manufacturing Extension Partnership, Department of Commerce, for the Connecticut Center and is a member of the National Center Leadership team. She champions the company's mission and vision and works closely with the organization's Board of Directors to oversee strategy implementation for long- term results.

With more than 30 years of successful corporate leadership experience, Bonnie has provided financial and tax planning services to small and midsize businesses, as well as operational management in both the service and manufacturing industries. Prior to becoming president and CEO of CONNSTEP, Bonnie was the co-founder of a woman-owned accounting and technology resource company.

In 2018, CONNSTEP established an affiliation with CBIA, the Connecticut Business and Industry Association, where Bonnie joined the CBIA executive leadership team. She is also a founding member of CMC, the Connecticut Manufacturers Collaborative, is a stakeholder to the Connecticut Manufacturing Innovation Fund Advisory Board, and is an active supporter of the UConn Tech Park.

Bonnie has served as a member of the Board of Directors for the New Haven Manufacturing Association, UConn, the Connecticut Energy Workforce Development Consortium and the Connecticut Employment and Training Commission Advanced Manufacturing Work Group. She has also served on the Connecticut Innovation Ecosystem Planning Group and the state's team for the National Governors' Association Policy Academy.

In 2011, she was selected as one of the "Eight Remarkable Women" in business by the Hartford Business Journal. Additionally, Bonnie has been a judge for the Connecticut FIRST robotics regional competition.

Bonnie is a magna cum laude graduate of Central Connecticut State University, a certified public accountant, and a member of the Connecticut Society of CPAs.