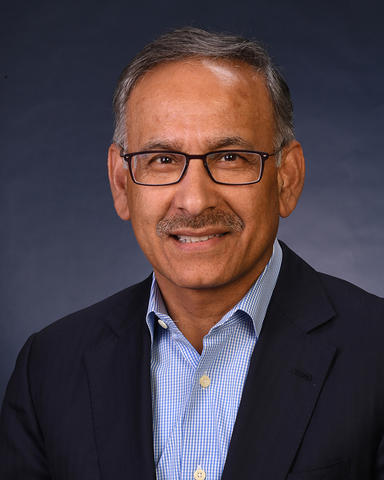 (Term expires November 12, 2021)
Mehmood Khan, MD, is Chief Executive Officer and Board Member of Life Biosciences Inc.  He joined the company in April 2019.  Life Biosciences was founded to advance scientific research and develop innovative new therapies to improve and extend healthy lives for everyone, including companion animals.  The company has built a unique daughter company structure to systematically address eight biological causes of aging, rather than working to treat a series of isolated diseases and conditions that arise with age.  Life Biosciences has established a corporate office in Boston, MA, a state-of-the-art research facility in Cambridge, MA, and a cutting-edge technology center in New York City, NY.  In his role as CEO, Dr. Khan provides strategic direction and operational oversight across Life Biosciences and its six daughter companies.  His vision of a more efficient and effective drug development pathway will drive innovation in the science and technology Life Biosciences advances.  By leveraging his diverse experience in pharmaceutical, clinical, and consumer industries, Dr. Khan is the ideal leader for Life Biosciences through its evolution and emergence as a global leader in longevity research and product development. 

Dr. Khan previously served as Vice Chairman and Chief Scientific Officer of Global Research and Development at PepsiCo, a Fortune 50 company employing upwards of 250,000 employees across 22 brands.  At PepsiCo, Dr. Khan played a pivotal role in the company's global R&D efforts to create breakthrough innovations in food, beverages, and nutrition, including the incorporation of healthier and more nutritious offerings across its portfolio. Dr. Khan also oversaw PepsiCo's global sustainability initiatives based on the belief that success in business is inextricably linked to the sustainability of the world we share.  Prior to joining PepsiCo, Dr. Khan served as President of Global R&D at Takeda Pharmaceuticals, leading the global efforts of one of the largest pharmaceutical companies in the world by revenue.

Before moving into industry, Dr. Khan had a distinguished medical career as a faculty member in endocrinology at the Mayo Clinic and Mayo Medical School where he served as Director of the Diabetes, Endocrine and Nutritional Trials Unit.  He also spent nine years leading programs in diabetes, endocrinology, metabolism and nutrition for the Hennepin County Medical Center in Minneapolis.

Dr. Khan is a member of the Board of Directors of Reckitt Benckiser, Indigo Ag, the Foundation for Food and Agricultural Research at the U.S. Department of Agriculture. He also serves as Chair of the U.S. Pakistan Business Council and Chair, U.S. Council on Competitiveness in Washington DC. 

Dr. Khan earned his medical degree from the University of Liverpool Medical School, England, and completed a fellowship in clinical endocrinology and nutrition in the Department of Medicine and Food Science and Nutrition at the University of Minnesota, Minneapolis. He is a Fellow of the Royal College of Physicians, London and a Fellow of the American College of Endocrinology.