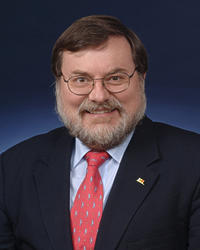 Tony Haymet is a Distinguished Professor and Vice Chancellor Emeritus at the University of California San Diego (UCSD). Following six years of service as Director of Scripps Institution of Oceanography, Vice Chancellor for Marine Sciences, and Dean of the Graduate School of Marine Sciences at USCD, Dr. Haymet retired from these administrative duties on January 1, 2013. During his tenure, Dr. Haymet significantly improved Scripps' budget and reinvigorated Scripps' academic personnel and infrastructure through an innovative agenda. 
He is co-founder of CleanTECH San Diego, a business organization devoted to advancing the clean technology economy, and currently serves as Vice-Chair. Dr. Haymet is the chair of the World Economic Forum's Global Agenda Council on Oceans. He is elected to the board of the Consortium for Ocean Leadership (COL), Partnership for the Observation of the Global Ocean POGO, and appointed to many boards and advisory committees, including National Science Foundation's Geoscience advisory committee. Dr. Haymet is a highly distinguished researcher who has published more than 165 peer-reviewed articles and numerous Op-Ed pieces in leading newspapers around the world. He was formerly Chief of Marine and Atmospheric Science and then the Science and Policy Director at the Commonwealth Scientific and Industrial Research Organization (CSIRO) in Australia. Dr. Haymet is a tenured Professor of Oceanography at Scripps, and of Chemistry & Biochemistry at UCSD.
He holds a Ph.D. from the University of Chicago and a Doctor and Bachelor of Science (Honors) from the University of Sydney.
<<Back to NIST Blue Ribbon Commission on Management and Safety II homepage