(+$10 million)
Challenge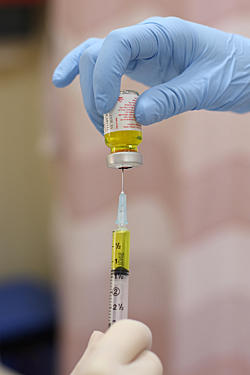 The rising cost of healthcare and increasing prevalence of chronic diseases, such as heart disease and diabetes, are having a severe impact on U.S. economic security and quality of life. The Administration is committed to improving the delivery and efficacy of healthcare. Novel medical technologies can lead to meaningful improvements in healthcare, but a sound measurement science and standards foundation must be in place to foster innovations and instill confidence that these new drugs can be manufactured to work effectively and safely. For example, new classes of drugs called biologic drugs, created not by chemical synthesis but by living cells, have revolutionized the treatment of many life threatening diseases such as cancer and have substantially improved the quality of life of hundreds of thousands of patients. However, these lifesaving drugs can be very expensive and are often difficult to manufacture with consistent quality.
Working with stakeholders in industry, academia, and government, NIST has identified critical areas where improved measurement technologies and methods would advance innovation in the existing U.S. biopharmaceutical manufacturing industry while improving the government's ability to effectively regulate emerging generic versions of so-called "follow-on" biologic drugs.
Proposed NIST Program
NIST's efforts in the area of healthcare to date have focused primarily on the measurements and standards needed for accurate clinical diagnostics and medical imaging. This initiative will extend that important work, enabling NIST to:
create standards and improved measurement infrastructure to ensure the accuracy and comparability of methods used to determine whether a drug will provoke an adverse immune response.
develop reference methods, standards, and data for the characterization of protein structure and other properties of biologic drugs to enable better quality control, the development of measurement instruments, and protocols for ensuring that generic biologics are structurally and functionally similar to their name brand counterparts; and
develop standards and advanced measurement capabilities that enable the characterization and fundamental understanding of the living cells that serve as the factories that manufacture biologic drugs.
Expected Impacts
NIST contributions to this area should have many benefits including but not limited to:
new, more accurate measurement systems for the evaluation of biologics;
a better scientific framework for regulatory decisions;
improved process development, lower cost of goods, and increased profits; and
a more fundamental understanding of bioprocessing to enable the agile, low-cost manufacturing of safe and effective products.