(+$14.4 million)
Challenge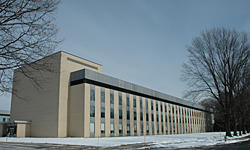 Deteriorating structural, mechanical, electrical, and safety systems in the nearly 45-year-old General Purpose Laboratories (GPL) at NIST Gaithersburg significantly limit the productivity and research agenda that the agency can accomplish.
There are seven Gaithersburg GPLs—housing the majority of measurement laboratories on the site—and providing a total of 1.2 million square feet (about 111,500 square meters) of research space. The major infrastructure systems in the GPLs, such as the mechanical, electrical, and plumbing systems, are obsolete and well beyond their life expectancies resulting in systems that are increasingly difficult to maintain and prone to catastrophic failures.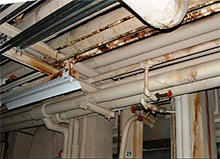 The buildings do not meet modern life safety building codes including egress, sprinklers, and fire proofing. The lack of tight environmental controls for vibration, temperature, humidity, and air quality results in a conservative estimate of a 10 percent loss in research productivity, due to the need to repeat experiments or otherwise compensate for poor conditions. Major renovations are required to bring the buildings up to a modern performance and safety level.
Proposed NIST Program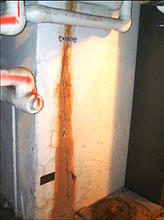 This initiative is part of a comprehensive, multiyear plan for the phased renovation of all the GPLs. In FY 2010, a $2 million Gaithersburg site space utilization study was funded. This FY 2011 request of $14.4 million will provide funding for the initial cost of the planning documents based on the results of the FY 2010 space study. It will identify the phasing plans, the basis of design, and budget for each phase of the renovation program. A comprehensive schedule will be developed for the GPL renovations as part of this initiative.
Specifically, the requested 2011 funding will support:
award of a multiyear architectural/engineering contract to initiate the planning, programming, and design of the Gaithersburg GPL renovations.
Expected Impacts
The successful renovation of the NIST Gaithersburg GPLs will dramatically improve the ability of NIST researchers to conduct measurement research that pushes the limits of science and helps accelerate innovation in national technology priority areas.
The cost of upgrading the NIST GPLs to 21st-century laboratory standards will be repaid many times over through the economic benefits of NIST research that accelerates advances in advanced manufacturing, nanotechnology, health care, physical infrastructure, homeland security, and other high priority areas.