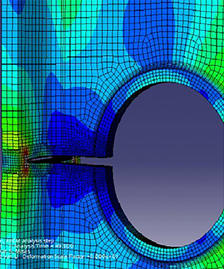 Creating new materials such as high-strength lightweight alloys is difficult because minor changes in composition and manufacturing can lead to big differences in performance. Researchers must conduct expensive and time-consuming trial-and-error experiments to find the right combination of components and manufacturing processes.
There is a faster way. Using material properties data and advanced computer models, engineers can realistically simulate the behavior of new materials in specific applications and avoid lengthy cycles of build and test.
This new approach, called "Materials by Design*," is expected to produce better-performing materials and lower cost products. It could also significantly improve the competitiveness of U.S. manufacturing by accelerating innovation for everything from automobile engines to computer chips to next-generation nuclear power plants. 
The administration has championed materials-by-design techniques through the Materials Genome Initiative. NIST plays a key role in the initiative, working with the National Science Foundation and the Departments of Energy and Defense to speed the discovery, development, manufacture and deployment of advanced materials. 
In 2013, NIST began a five-year collaboration with the Chicago-based Center for Hierarchical Materials Design (CHiMaD), a NIST Center of Excellence. CHiMaD is focused on helping NIST achieve its goals in the Materials Genome Initiative by developing the next generation of computational tools, databases and experimental techniques.
NIST's significant expertise in physical reference data and databases will play an important role in materials by design, as will its relationships with industry stakeholders such as manufacturers and professional societies.
Proposed NIST Program
NIST requests an increase of $5 million, for a total of $18.8 million, to enable the creation of advanced materials discovery tools and data for industry.
Through the Materials Genome Initiative, NIST is developing the infrastructure to support innovation in advanced materials, including data assessment and validation, data standards and modeling and simulation tools. This funding will help NIST to:
increase NIST's expertise in the latest computational tools and experimental techniques;
develop and publish new data and methods on metallic alloys and advanced composites;
create new tools and techniques in biomaterials and organic electronics;
sustain and enhance the NIST Materials Data Repository (MDR) by opening its use to registered participants, convening workshops and improving its interoperability with other databases; and
ensure coordination of NIST's intramural research efforts with the new NIST Advanced Materials Center of Excellence, CHiMaD.
Additional Information
---