Challenge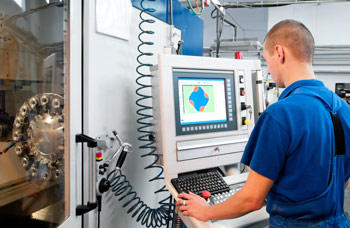 Delivering technical support to the nation's manufacturing industries as they strive to out-innovate and out-perform the international competition has always been a top priority at the National Institute of Standards and Technology (NIST). Today's challenges and opportunities—played out on a fiercely competitive global landscape—have made NIST's job of providing infrastructural support and measurement know-how to U.S. manufacturers even more important.
After ranking as the world's largest manufacturer for more than a century, the United States has recently lost ground to China in terms of share of global manufacturing output. It has also slipped below Germany, South Korea, and Japan in rankings of  manufacturing intensity, a critical indicator of future job-creating innovation.
The U.S. remains the largest producer of advanced technology products, but this competition also ramped up over the last decade. In 2010, the U.S. ran an $81 billion deficit in trade of advanced technology products. Since 2000, the U.S. has lost 687,000 high-technology manufacturing jobs—a 28 percent decrease.¹
But U.S. manufacturing has begun to rebound from the "great recession." Since December 2009, manufacturers have increased their payrolls by almost 400,000 workers. Some of these jobs were the result of onshoring—the return of positions and operations that had been transplanted to lower-wage nations. Shifting global conditions and promising technologies could add momentum to these nascent trends.
As President Obama said in his 2012 State of the Union address, "We have a huge opportunity, at this moment, to bring manufacturing back. But we have to seize it." The key to U.S. prosperity, he said, "begins with American manufacturing."
Advanced manufacturing capabilities are essential for turning research discoveries, inventions, and new ideas into better or novel products—our nation's ability to innovate. Innovation, in turn, drives U.S. economic growth and growth of U.S. productivity. There are many interrelated elements of an innovation ecosystem—entrepreneurs, workers, tax policies, to name a few—but without manufacturing, the magic of innovation is not nearly as potent.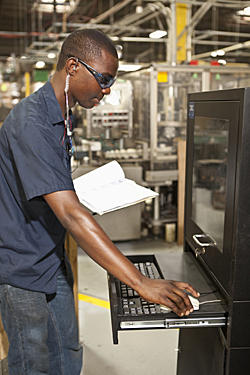 For the nation's investment in R&D and technology to have true impact, it must be connected to manufacturing through an effective innovation ecosystem that spans all the stages from basic research and prototype development to process development and manufacturing scale-up to ensure that great ideas generated in laboratories are efficiently turned into great products.
The President's FY 2013 budget contains two NIST initiatives focused on overcoming manufacturing-related barriers to innovation. In addition, NIST's Hollings Manufacturing Extension Partnership, which helps manufacturers solve technical issues and commercialize advanced technologies developed through laboratory research, is slated to receive $128 million in the President's FY 2013 budget.
Proposed NIST Initiatives

Measurement Science for Advanced Manufacturing (+$45 million)
To be conducted by the NIST Laboratory Program, this initiative would fund the following efforts: 
Metrology Infrastructure and Standards to Support Biomanufacturing (+$10 million)
Working closely with industry, the Food and Drug Administration, and standards organizations, NIST will develop the measurement infrastructure needed to gain detailed understanding of biomanufacturing processes and design superior methods that yield higher-quality protein therapeutic products. Continuous improvements will enable manufacturing processes that are sufficiently agile—or adaptable—to accommodate manufacture of next-generation treatments.
Measurement Science and Standards to Support Nanomanufacturing (+$10 million)
NIST will develop measurement methods to help companies overcome technical barriers to cost-effective, high-volume manufacturing of materials, devices, and systems that exploit the exceptional properties exhibited at nanoscale levels. This initiative includes $2 million for nanotechnology related environmental, health, and safety research to address potential risks of nanotechnology-based products.
Measurement Science and Standards to Speed Development and Industrial Applications of Advanced Materials (+$10 million)
This work will accelerate NIST efforts in support of the national Materials Genome Initiative, an interagency program with the goal of significantly reducing the time from discovery to commercial deployment of new materials. NIST will focus on standard reference databases, data assessment and validation, standards development and implementation, and modeling and simulation tools.
Measurement Science and Standards to Support Smart Manufacturing (+$10 million)
Smart manufacturing exploits advances in sensors, data analytics, modeling, and simulation and integrates these technologies to improve manufacturing performance at all levels, from equipment to factory to supply chain. NIST will develop measurement capabilities and standards for automated in-process quality monitoring and control for factory-level production systems. NIST will also build a testbed to help industry, university, and government collaborators develop an open standards platform for facilitating the simultaneous engineering of the physical and virtual components of manufacturing systems.
NIST Manufacturing Fellowships Program (+$5 million)
This program provides opportunities for engineers and scientists to work with NIST staff on the measurement and standards required to create cutting-edge tools for manufacturers. Fellowships will be available to qualified researchers from companies and non-profit organizations, as well as to recent recipients of bachelor's or master's degrees in relevant fields.
Advanced Manufacturing Technology Consortia Program (+$21 million)
The AMTech program will provide cost-shared funding to industry-led consortia that are focused on developing advanced technologies to address major technical problems that inhibit development and widespread adoption of advanced manufacturing capabilities in the United States. By convening key organizations across the entire innovation lifecycle, AMTech will help to create the infrastructure necessary for more efficient technology transfer. These consortia will identify and conduct precompetitive research to address long-range basic R&D relevant to manufacturing, currently a weak link in the U.S. innovation ecosystem.
Expected Impacts
Benefits and impacts are expected to include:
high-value-added, knowledge-intensive U.S.-made products that respond to new market opportunities and generate high-skilled manufacturing and associated service sector jobs;
cost-effective methods for making new products that safely exploit nanoscale materials; and
new types of manufacturing tools and processes that allow cost-effective small batch production and create new market opportunities for small and mid-sized manufacturers.
---
[1] Overview to the National Science Board's Science and Engineering Indicators 2012; pp 16-20.