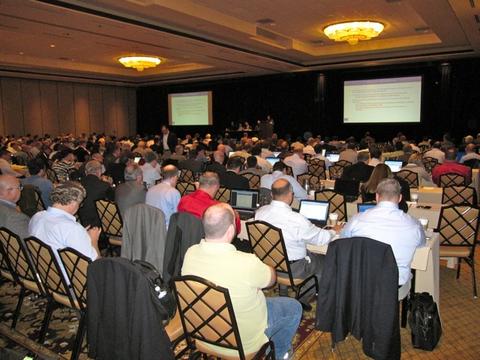 MAR 6 – 7, 2012 (Broomfield, CO) — The PSCR program hosted its third face-to-face stakeholders' meeting (sessions and presentations) for the PSBB Demonstration Network. The meeting, which had over 350 attendees, brought together representatives from public safety, Federal agencies, industry, and academia.

We were fortunate to have keynote speakers Anna Gomez, Dr. David Boyd, and Tom Power. Gomez and Boyd spoke to the importance of state and local representatives on the 15-member First Responder Network Authority (FirstNet) board to ensure its process includes a local voice. FirstNet is a result of legislation signed (bill here) February 22, 2012, which secures the 700-MHz D Block spectrum for public safety first responders and $7 billion in funding to help pay for a nationwide broadband network.

Meeting participants learned about progress in PSCR's PSBB Demonstration Network testing, including:
Phase 1 test results and lessons learned
Current Study Item findings
Recent public safety broadband requirements gathering and standards development activities
Preliminary voice over broadband audio quality testing findings and future plans
Nationwide broadband modeling and simulation efforts and results being conducted by

NIST
» Meeting agenda and slide decks

Related PSCR press items:
"State and Local Input Essential to Nationwide Network Success, Say Federal Officials," MissionCritical Communications.
"Remarks of Deputy Assistant Secretary Gomez at PSCR Demonstration Network Stakeholders Meeting," NTIA.
"Supporting our First Responders' Communications Needs," NTIA Blog.
"PSA Celebrates Broadband-Network Victory," Urgent Communications.
More PSCR broadband press...