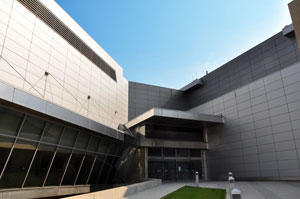 The CNST is located within the NIST Advanced Measurement Laboratory Complex, one of the largest and most technologically advanced research facilities in the world. The complex offers laboratories with electromagnetic shielding, vibration isolation, and superior environmental control of temperature, humidity, and air quality.  These laboratories allow NIST to provide the sophisticated measurements and standards needed by U.S. industry and the scientific community for key 21st century technologies such as nanotechnology, semiconductors, biotechnology, advanced materials, quantum computing, and advanced manufacturing.

The $235 million, 49,843 square meter (536,507 square foot) Advanced Measurement Laboratory (AML) Complex features five separate wings, each with one scientific instrumentation level. Two metrology wings (buildings 218 and 219) are located underground, two physical sciences wings (buildings 216/CNST and 217) and a cleanroom wing (building 215/NanoFab) are located above ground.
 
The AML Complex was designed by HDR Architecture Inc. of Alexandria, Va., and constructed by Clark/Gilford, a joint venture of The Clark Construction Group Inc. of Bethesda, MD, and Gilford Corporation of Beltsville, Md.