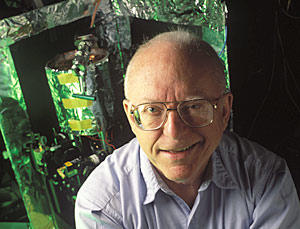 Hall is known as a preeminent laser experimentalist, concentrating on improving the precision and accuracy with which lasers can produce a specific, sharp frequency or color of light, and the stability with which they can hold that frequency. His work has been essential to the development of the laser as a precision measurement tool. In the 1960s he worked on the development of the methane-stabilized helium-neon laser, which became the cornerstone of a famous experiment at NIST to measure the speed of light at least 100 times better than any previous determination. The work ultimately led to a fundamental redefinition of the meter, the basic unit of distance measurement.
Precise control of the frequency and improved stability have enabled a broad range of laser applications in science and technology, including precision spectroscopy for physical and chemical analysis, new tests and measurements of fundamental physical laws and constants, time and length metrology, and fiber-optic communications, among others.
Hall shares the Nobel Prize with Hänsch "for their contributions to the development of laser-based precision spectroscopy, including the optical frequency comb technique."