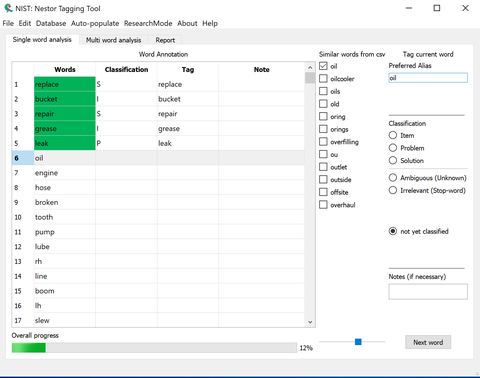 The Nestor Graphical User Interface (GUI) is a free toolkit that helps maintainers annotate their Maintenance Work Order (MWO) data through a process called "tagging". The MWOs are inputted as comma-separated variable (.csv) files with UTF-8 encoding into the Nestor GUI and the user goes through the tagging process to create an annotated, tagged MWO dataset. Nestor is a toolkit for using Technical Language Processing (TLP) with efficient user-interaction to perform structured data extraction from these MWOs with minimal annotation time-cost.
A community of interest has been created to discuss Technical Language Processing developments here. 
The user can follow the steps in the Nestor User's Guide to properly annotate the data. The source code is available on GitHub and the Installation Guide is available as well. 
Once the data is annotated using the Nestor GUI, users can use this data for different analysis, such as major problem identification and skill assessment of technicians and operators. A complimentary Nestor dashboard is under development to help with pattern identification and can be tested by using this Dashboard Guide.