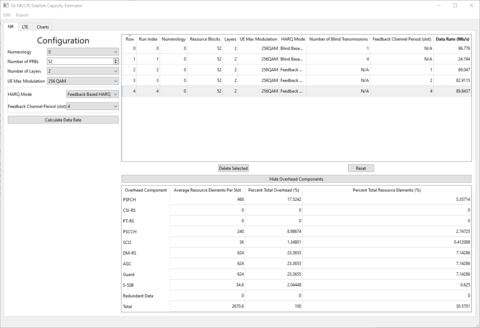 This 5G New Radio/LTE Sidelink Capacity Estimator computes the expected link capacity in data rate (Mbit/s) for sidelink considering 5G New Radio (NR) and Long Term Evolution (LTE) communication standards, as defined by The 3rd Generation Partnership Project (3GPP). Users can input the respective configuration parameters and evaluate the resulting capacity.
The tool provides side-by-side chart plotting between NR and LTE sidelink capacities for easy comparison. Data and generated charts can be exported to be used outside the tool.
In the current release, the tool applies to 10 MHz bands plus numerology 0 and 1 in case of 5G NR.  One example is the public safety band, Band 14/n14 (the 700 MHz frequency band).