World Standards Day 2016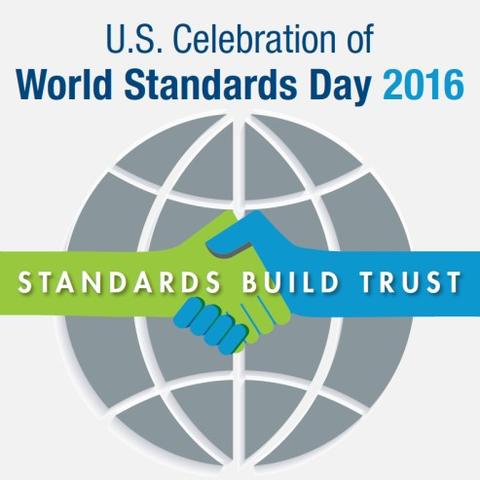 For over a century, the United States standards system has produced voluntary consensus standards that have driven industrial progress, spurred global commerce, and enhanced health, safety, and the environment. To commemorate the enormous global role that standardization plays in various capacities, the 2016 U.S. Celebration of World Standards Day on October 27, 2016, will have the theme "Standards Build Trust."
Reliability and trust are fundamental components of any process, business, or service. Behind the scenes, standards and conformity assessment ensure this reliability and trust. In short, standards make everyday life work.

Everything from tech gadgets and the products we rely on in our offices and homes, to services that fuel the global economy and ensure health and safety, relies upon standards and conformance to ensure safety, dependability, and interoperability.
A product or service conforming to an international standard represents a trusted symbol of quality, safety, and compatibility. Most of all, standards—developed through a process that is balanced, open, and transparent—help engender trust among the people, businesses, and governments that have placed their confidence in the standardization process.
This year, the U.S. Celebration of World Standards Day will celebrate that trust and confidence with a reception and gala dinner at the Fairmont Washington in Washington, D.C. The event will include the presentation of the 2016 Ronald H. Brown Standards Leadership Award, which is named after the late U.S. Secretary of Commerce and honors an individual who has effectively promoted standardization as a key tool in the elimination of global trade barriers. The 2016 World Standards Day Paper Competition winners will also be announced by the president of SES – The Society for Standards Professionals.

World Standards Day was initially launched in 1970, and is now celebrated by nations around the globe. U.S. activities are organized annually by a planning committee consisting of representatives from the standards and conformity assessment community. ASTM International will serve as the event's 2016 administrating organization. The event is co-chaired each year by the American National Standards Institute (ANSI) and the National Institute of Standards and Technology (NIST).
For more information, to sponsor the event, or to register, please visit www.wsd-us.org. Advance registration is required.