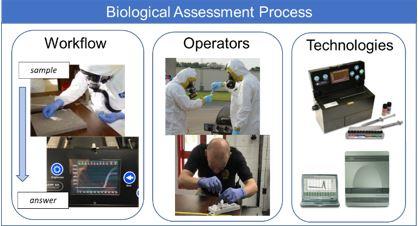 Nationwide, first responders regularly encounter suspicious materials that might be biological threat agents.  Routine training and process evaluations help ensure workflows, operators, and technologies are working together properly within the concept of operations. 
Biological test materials have the critical role of providing a realistic challenge material for the entire process.  However, the use of inactivated biological threat agents is limited for reasons including health and safety concerns, the potential for equipment contamination that can result in false positives during real events, limited availability of the materials, and the need for specialized sample processing facilities. 
To overcome these limitations, NIST developed an engineered baker's yeast strain (Saccharomyces cerevisiae NE095) to serve as a surrogate for biological threat agents during routing training, field exercises, and technology evaluation.  The quantitative nature of the yeast material allows users to track performance, compare workflows, and optimize collection and assessment protocols.  The NE095 yeast cells were successfully detected in an initial interlaboratory study with potential users of the yeast, including public health and mobile laboratories.[1]  The yeast was then obtained in a freeze-dried format, characterized for homogeneity and stability in terms of total cell count, and demonstrated to be fit for purpose in additional field studies described below. The final NIST Reference Material 8230 is available for purchase.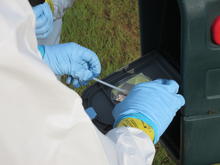 Full-Scale Field Exercise
In July 2015, suitability of the yeast material was demonstrated in Operation Vigilant Sample (OVS) IV, a functional field exercise led by Captain Bryon Marsh (Georgia National Guard 4th Civil Support Team (CST)) at the Guardian Centers, Perry, GA.  Local responders, state public health laboratories, CSTs, Environmental Protection Agency (EPA), and BioWatch applied state response plans in a biothreat scenario (putative Yersinia pestis). 
The CSTs deposited the yeast material onto stainless steel coupons that were then placed at pre-determined locations around the training site.  Sampling teams received just-in-time training and collected samples from the coupons. Mobile and public health laboratories successfully detected the yeast via quantitative polymerase chain reaction (qPCR) in samples from yeast-inoculated but not blank coupons. 
S. cerevisiae NE095 challenged the entire assessment process, from sample to answer, including results interpretation and reporting, and enabled exercise participants to demonstrate their ability to assess a biological material in the field while minimizing health and safety risks.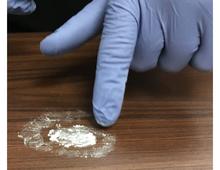 Yeast Powder Interlaboratory Study
Responders routinely encounter suspicious powders.  The dried yeast is easily crushed into a powder and can serve as a surrogate suspicious powder for biological assessment training in the field.
In 2019, an interlaboratory study with public health laboratories and first responders from five states was organized to evaluate reproducibility of a protocol to crush the yeast into a powder and insert it into a typical responder workflow, including a protein/pH screen and field qPCR assessment followed by laboratory qPCR detection. 
The yeast was successfully crushed, sampled, and detected in the field and laboratory qPCR assays, demonstrating that it can be readily incorporated into existing response workflows.
The Department of Homeland Security (DHS) Science and Technology Directorate funded this work under Interagency Agreements with NIST.