Using integrated photonics, we generate spectrally flat, dark soliton microresonator frequency combs with accurate alignment to the ITU-T grid. These laser sources support innovation in advanced communication and computation applications. Moreover, technical development in these application areas offers unique opportunities to open-up new physical effects for converting laser light with nonlinear photonics. Our microcombs offer high coherence, low power consumption, and high pump-to-comb conversion efficiency. We demonstrate a 200 GHz soliton microcomb spanning from L-band to S-band and the mismatch (distance between each comb line and the closet ITU-T channel) is below 4.6 GHz. In these microcombs, we achieve close to 70% pump-to-comb conversion efficiency with 40 mW on-chip pump power. Our approach opens a path towards practical application of microcombs in high-speed optical interconnects.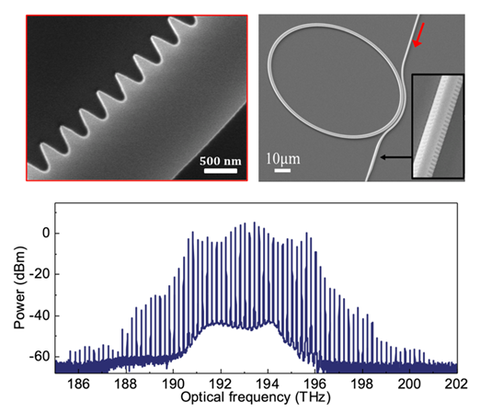 Through the DARPA PIPES program, we are developing ultrahigh speed optical links with microcombs and semiconductor-foundry-based silicon photonics and electronics systems. The rapid growth of data traffic in optical communication networks requires more compact and more power efficient wavelength-division multiplexing (WDM) transceivers with larger data capacity. Microcombs have merged as a promising candidate for chip-scale light sources in WDM systems. Compared with conventional laser array solutions, microcombs offer revolutionary advantages, such as small footprint, low power consumption and high-power efficiency. Our microcombs are used with monolithically integrated silicon photonics and electronics circuits that implement a 1 Tb per second optical link. Monolithic integration of photonic devices with CMOS electronics significantly reduces the packaging complexity and enables operation at ultralow power consumption. This work explores next-generation photonic-electronic system integration that supports extreme data capacity and can be extended to computation applications, high-speed microwave and millimeter-wave signaling, and sensing of various physical observables.

Publications
[1] K. Y. Yang et al., Multi-Dimensional Data Transmission Using Inverse-Designed Silicon Photonics and Microcombs, Nat Commun 13, 1 (2022).
[2] C. Shirpurkar et al., Photonic Crystal Resonators for Inverse-Designed Multi-Dimensional Optical Interconnects, Opt. Lett., OL 47, 3063 (2022).
[3] G. M. Brodnik, M. W. Harrington, J. H. Dallyn, D. Bose, W. Zhang, L. Stern, P. A. Morton, R. O. Behunin, S. B. Papp, and D. J. Blumenthal, Optically Synchronized Fibre Links Using Spectrally Pure Chip-Scale Lasers, Nat. Photon. 15, 588 (2021).
[4] J. Zang, T. C. Briles, J. S. Morgan, S.-P. Yu, A. Beling, and S. Papp, Soliton Microcomb-Based Millimeter-Wave Synthesizer, in 2019 IEEE Avionics and Vehicle Fiber-Optics and Photonics Conference (AVFOP) (2019), pp. 1–2.
[5] S. B. Papp and J. Zang, Millimeter-Wave Frequency Synthesizer Based on Microcomb Photomixing, and Associated Methods, US11336377B1 (17 May 2022).
[6] R. Bustos-Ramirez et al., Synchronization of Electro-Optically Modulated Kerr Soliton to a Chip-Scale Mode-Locked Laser PIC via Regenerative Harmonic Injection Locking, Journal of Lightwave Technology 40, 1742 (2022).